BEINN DEARG 11th/12th June 2011
A Two-Day Mountain Competition for Pairs with Overnight Campsite
Location is 4Hrs Drive North of Glasgow/Edinburgh, 1½Hrs Drive From Inverness!
ORDER MORE TEES HERE
Plot your route and view others on RouteGadget | Photos for Sale
View Some Great Blogs and add your own
Competition Map and Courses | Control Descriptions | Weather | Lost Property
Reports - Blogs | Planner | Controller | Friday | Saturday am | Saturday pm | Sunday | Overnight Leaders | Winners
Photos - Competition Entries | Prize Giving | Friday | Saturday | Sunday
Results - Saturday | Sunday | Overall | Outdoor Champs | University Champs
2011 PHOTO & BLOG COMPETITION - Photo Competition |Blog Competition
Many congratulations to Brian Cook and John Duff for their fabulous photos, also to Darren Firth for his words, photos, maps, stats, graphs.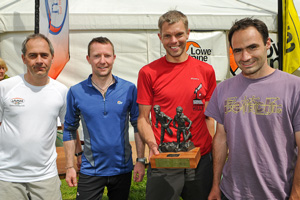 The Elite winners were Duncan Archer and Jim Mann, who win an all expenses paid trip to the Bjorkliden Arctic MM on 19-20th August 2011. The prize will include transport from a local airport and accommodation/food at a hotel the night before and after the event. The LAMM will share the cost of this this prize and we will pay £500 towards flights from a UK airport. Bjorkliden is located 200km (124 miles) north of the Arctic Circle just north of Sweden's Abisko National Park, almost on the border with Norway.
If you were a competitor at this year's LAMM you may have been wondering who the several competitors were with skull motifs on their tops. They are all members of a loose affiliation of Swedish runners called Team Rockrunners. I spoke with Tomas Albinsson and Peter Juthberg who have been to the LAMM twice and three times before respectively and who this year came in 5th on the B course. Back in Sweden their team members do quite a lot of informal off-road running, the BAMM, which is the Swedish equivalent of the LAMM, and of course and fair bit of orienteering.In total we reckon there were actually eight Swedish teams at the LAMM this year and based on addresses from entries received we also believe there were: one Danish, three German, one Dutch, two Spanish, and a number of Irish teams at the event.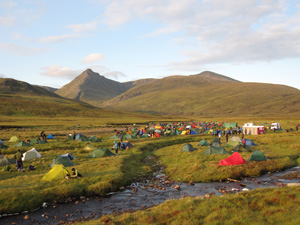 Sunday The day started at 5 a.m. not with acapela turbo-folk, but with Martin wandering around the campsite with his loudhailer telling everyone what a fantastic sunrise they could experience if they were to stick their heads out of their tents - and he wasn't wrong. Although the day ended yesterday with a bit of refreshing rain, today started in sunshine (that was only rarely interrupted by the odd passing cloud all day) and it did a great job of lighting up the eastern slope of Creag an Duine, a smaller sharply defined summit off the northwest side of Seana Bhraigh, a hill which dominated the view from the overnight camp.
Sunday at the LAMM is a chasing start for the leaders of all the linear courses and anyone who finished within an hour and a half of their day one times. The tightest margin for any of the leaders was on the elite course, where Duncan Archer and Jim Mann had only a 2 minute lead over their closest rivals, Dan Gay and Al Anthony. One might almost imagine that that could be down to the 100 gms they saved by carrying one of the new ultra-light Terra Nova Photon tents, which are so light they are almost transparent (I think it was the inspiration for Lady Gaga's pod from the Grammy awards). More >>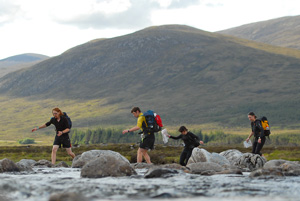 Saturday morning couldn't have started better, fine and sunny, with a few puffy white clouds and a slight breeze to stop everyone overheating. D course competitors started from the event centre with everyone else being bussed to one of three remote starts along the A835 south west of Ulapool, the furthest start being at the dam at the far end of Loch Glascarnoch at the extreme southern edge of the event area.
The elite, C and score courses, all had an early stress test when they had to make a stream crossing within a kilometre of their joint start location. From a bystander's point of view it is very clear that competitors fall into a few different categories when it comes to stream crossing: Most common is the competitor who arrives at the river bank, looks a few metres up and down stream then selects the most likely line, with little concern for wet socks. Less common are competitors who are prepared to spend anything up to 5 minutes scouring the riverbank up and down stream for a non-existent totally safe route that will allow them to keep their socks dry before finally ending their self-delusion and submerging their socks anyway. The third major subgroup are competitors who simply jump in straight away and plow through the stream at speed.
More >>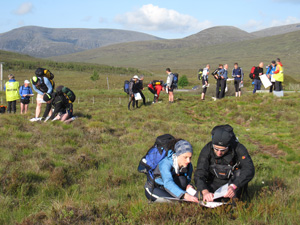 For some reason, last year's initiative to give every competitor a free bottle of specially brewed LAMM ale proved extremely popular amongst competitors. And the donation of even more beer from the Fyne Ales Brewery (given out at the event centre in return for donations from competitors) raised over £2,000 towards the cost of a new Landrover for the Arrochar Mountain Rescue Team, which they have since bought, and are now using in their support of this year's event.
So this year, another local micro-brewery, An Teallach Ales in Dundonell, has been enlisted to help raise even more money for Mountain Rescue (by donating 20% of the price of sales in the event centre), and also to provide another commemorative ale for competitors. This time it is not LAMM Ale though, as coincidentally the company already produces a Beinn Dearg Ale, which shares the name of the event. More >>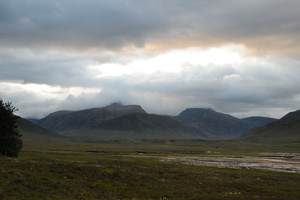 Friday Night - Storm clouds gather?
Competitors arriving at the LAMM at around 9p.m. tonight were greeted with the sight of clouds around the summit of Beinn Dearg, the hill that has given it's name to the event this year and also one of six Munros in the area.
In fact the weather forecast for the event isn't too bad: A clear day for Saturday with intermittent heavy showers and an even fairer day for Sunday, although the forecast for Monday is for gales, so hopefully those won't be arriving any sooner than currently expected.
Over the course of the last week though, members of the event team have already been battling high winds as they put out the controls, and not without incident. Angela Mudge, a regular helper at the event and also a world class hill and mountain runner, managed to lose two of the kites (control markers) that she was carrying as they were blown away whilst she was placing one on a summit, which then necessitated a five hour return trip to the event centre to collect a replacement. More >>
LAMM 2011 LOCATION ANNOUNCED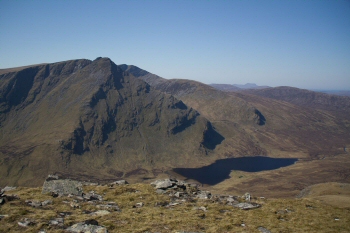 The event will take place at Inverlael, 6 miles south east of Ullapool on the A835 road from Inverness. As you approach the head of Loch Broom, you'll see a yellow LAMM sign and you'll turn right off the main road. Give plenty of warning as you slow down because it is a fast road. Have a safe journey. We look forward to seeing you from 3pm onwards and registration opens at 4pm. The Event Centre is at Inverlael Farm, IV23 2RG and the arrow on this map shows the Event Centre field. If the ground is firm enough, most of the parking will be in the next field (south). Please read and print the Final Details. There is no accommodation available in the immediate vicinity and the best place to try is Ullapool if you don't wish to enjoy the convivial atmosphere on the Event Centre field.
OUR PLANNER ANDY SPENCELEY WROTE
The guessing game is nearly over, soon the location will be revealed and then the pain starts! I can't say too much about the area as it's amazing how knowledgeable some of you are about the Scottish hills and even saying how many munros there are on the map would give it away to many off you. But you can be assured that there are munros and other hills and many of you will have an opportunity to tick off a summit (or two!). Terrain varies a lot over the area. There are the usual more boggy areas, which unfortunately are slower at the moment with the recent rain, but a lot of the area is comparatively fast running, particularly high up on the hills. The centre of the area has quite a few crags to beware off, though courses do avoid them as much as possible. There are a few stalkers paths and estate tracks which may or may not be useful.
One of the things a lot of people enjoy about the LAMM, and perhaps different from other MMs, is the location and ambiance of the mid camp as we try to get remote locations well away from roads etc, so you really feel you are in the wilds. Again this year the midcamp is another superb, remote location in the heart of the hills and we've found a place that has some good views (depending on the weather being clear!) and offers nice grassy camping with plenty of space to relax, wash, lounge about and chat with other teams. Only the real hard core hill baggers among you would have been anywhere near this campsite before the LAMM.

All we've got to do now is keep our fingers crossed that the bad weather we've had in Scotland for the past 2 or 3 weeks is away and we look forward to seeing you at the event.

THERE WILL BE BEER - RAISING MONEY AGAIN FOR MOUNTAIN RESCUE
In 2010 Fyne Ales, a local microbrewery, provided barrels of beer on Friday night and after the event on Sunday. More than £2,200 was raised for Arrochar MR Team. An additional £10,000 was raised by the colleagues of Martin Potter, who was rescued by Arrochar MRT after a serious accident on LAMM Sunday last year. The guys will be bringing the new Land Rover that so many of you helped to fund, to the LAMM. This year the AN TEALLACH BREWERY will provide a bar on Friday evening and Sunday, serving a selection of their own beers. Beer will be very reasonably priced at £2.50 a pint, of which 50p will be donated to the Mountain Rescue.

On Sunday, all competitors will be presented with a commemorative bottle of Beinn Dearg, the microbrewery's own brew, just after you finish. Please take the bottle home as a memento of the event and don't open it at the event as we must avoid glass waste at the venue.

SPECIAL ELITE PRIZE
Anders Morell who organises the BAMM - Bjorkliden Arctic MM has for the third time very kindly offered a prize of a free entry for the BAMM on 19-20th August 2011. The prize will include transport from a local airport and accommodation/food at a hotel the night before and after the event. The LAMM will share the cost of this this prize and we will pay £500 towards appropriate flights from a UK airport. Bjorkliden is located 200km (124 miles) north of the Arctic Circle just north of Sweden's Abisko National Park, almost on the border with Norway. It is possible to travel to or from the venue to the UK in one day. This is a great opportunity to take part in a Mountain Marathon in another wonderful location far from home and we're very grateful to Anders for his kind offer. However - here's the catch. This prize will not necessarily be offered to the winning Elite team. It will be offered to the best performing Elite team that remembers to confirm at LAMM Registration Information Desk that (barring exceptional circumstances) they will be able to take part in the BAMM. We will use the information from registration and your results to allocate this prize.

The Lowe Alpine Mountain Marathon is a 2-day mountain orienteering event that takes place each year in the Scottish Highlands. The emphasis is always on providing challenging routes in classic high mountain country. The event has a tradition for transporting teams to a number of undisclosed start locations on Saturday morning to make best use of the terrain. Those who join us each year will tell you that the LAMM is a very friendly and it is a compact event with a limit of approx. 500 teams. Apart from providing average travelling time, the LAMM creates a great sense of anticipation by keeping the venue secret until 36 hours before the event. We have courses for all abilities - 5 linear and one score. The LAMM will take you to wonderful Scottish mountain areas that you may otherwise never take the time to visit. The 2011 area is scattered with Munros and Corbetts and we've worked hard to find a site for the Midcamp that allows us to provide great courses for all. The Midcamp will be a another wild mountain location .....

Once again Andy Spenceley will be our planner, Dave Coustick, Brian Jackson and Angela Mudge our controllers. Andrew Leaney will manage our website, provide results and a live webcast during the weekend itself and Jon Brooke will be writing reports for the website and taking photographs that you can purchase online after the event. Twenty or so friends of the event will help as marshals during the weekend. Please enter without delay as the event fills very quickly. We look forward to seeing you again on 11/12th June for the "Connoisseurs Mountain Marathon"- Martin Stone (Event Organiser)