Saturday pm
Saturday Photo Gallery | Competition Map and Courses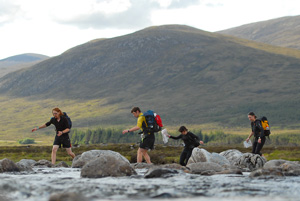 Saturday morning couldn't have started better, fine and sunny, with a few puffy white clouds and a slight breeze to stop everyone overheating. D course competitors started from the event centre with everyone else being bussed to one of three remote starts along the A835 south west of Ulapool, the furthest start being at the dam at the far end of Loch Glascarnoch at the extreme southern edge of the event area.
The elite, C and score courses, all had an early stress test when they had to make a stream crossing within a kilometre of their joint start location. From a bystander's point of view it is very clear that competitors fall into a few different categories when it comes to stream crossing: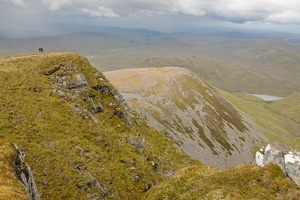 Most common is the competitor who arrives at the river bank, looks a few metres up and down stream then selects the most likely line, with little concern for wet socks. Less common are competitors who are prepared to spend anything up to 5 minutes scouring the riverbank up and down stream for a non-existent totally safe route that will allow them to keep their socks dry before finally ending their self-delusion and submerging their socks anyway. The third major subgroup are competitors who simply jump in straight away and plow through the stream at speed.
Of course any of these methods would be fine IF both members of the team behaved the same way, but unfortunately it doesn't seem to work out that way. It would be nice to think that LAMMers, or mountain marathon competitors generally always got on with their team mates but when a "jumper-in" partners with a "procrastinator" there are sometimes a few signs of stress amongst teams.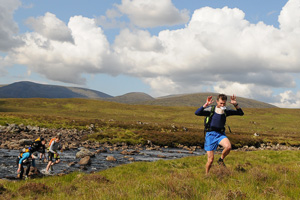 Finally there is a fourth minor subgoup – those who muck about or get the giggles when crossing a stream with a photographer on the other side – you know who you are.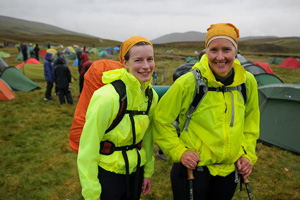 One of our competitors this year is Marge Winter who has an interesting approach to her Parkinson's disease – she is doing the LAMM as a form of therapy. 10 years ago she had to use sticks just to get around, before she figured out a new diet, the right anti-inflamatories to use and also that she needed to exercise, primarily by running. She thinks that running, Pilates and other exercises help her to maintain her fitness to tackle everyday physical activities. Since she made her breakthrough in managing her condition she has also been setting herself physical challenges. After her son did the LAMM last year she got hooked on the idea of doing it after seeing his map. She has just completed the first day at a good steady pace with her running partner Laura Jane Michie. If you're interested in finding out more about Marge's approach to Parkinson's Disease she has a blog linked to the wobblywilliams website (you'll have to Google it as we're off-line as I write this and I can't check it to give you a link).
Self inflating tents are great so long as you bring your compressed air with you and not an empty bottle. Anyone who didn't make this school boy error take one step forward – not so fast Arrochar Mountain rescue team. On a more serious note the guys have luckily had very little to deal with today. One member of a well placed A team has a suspected cracked rib after a fall, but after consulting with a doctor taking part in the event has decided to try and run tomorrow – well you would wouldn't you if you were in the chasing start. Talking of which the number taking part this year, with starts from 6:30 a.m to 8:00 are 10 elite teams, 12 A teams, 24 B teams, 17 C teams and 27 D teams.
Unfortunately we haven't been able to elicit the services of the traditional piper to wake the competitors on Sunday morning as the overnight is just too remote to temp anyone to come in. One competitor was overheard saying that the loudhailer turned up to maximum volume in order to create some feedback would probably be indistinguishable (but I'm sure they were joking). No doubt Martin will fill in with a bit of acapela turbo-folk.
Jon Brooke