KINTAIL 2009 6th/7th June
A Two-Day Mountain Competition for Pairs with Overnight Campsite
Location is 3½-4Hrs Drive North of Glasgow/Edinburgh and 2Hrs from Inverness!
Friday | Saturday | Sunday | Photos | Photo competition
Sat Results | Sun Results | Overall Results | Prize Giving Photos | Feedback
Map/RouteGadget | Outdoor Industry Champs Results | University Champs Results
Additional Reports
Helping at the LAMM | A Viking's Tale
Elite winners Andy Symonds and Jethro Lennox plus photos
Andy and Jethro win the BAMM in Arctic Norway
Photo Competition Winners
Best LAMMer in action photo
'Green is for GoGo' by Ruth Love

Best Scenic Photo Including a LAMM Competitor
'Descending Beinn Fhada west ridge' by John Duff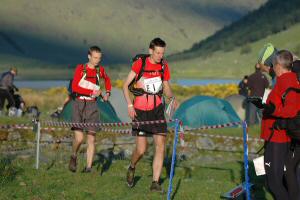 As expected, with an hour's advantage from the first day, the winners of the elite were Andy Symonds and Jethro Lennox, athough Jethro had been sick on the course and they said they had had to slow down. The other two elite pairs in the chasing start managed to take back 20 minutes from them and also exchanged places. The prize for the winners was the entry to the BAMM in Sweden on 14th/15th August, including air fares and accomodation.More >>
Saturday Evening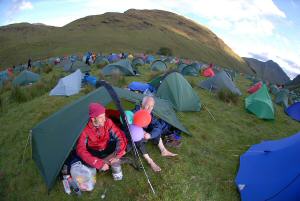 538 Started
At the finish at 19:00 hours teams are still arriving. The first got here at around 12:45 just as the download tent was being put in place, but luckily the weather this afternoon has been hot and sunny, with a pleasant breeze to keep away the midges, so no one seemed to mind spending a few hours cooling their feet in the river, catching up with friends, looking at the planner's route choices for the day just eating and sleeping in the sun. More >>
Saturday Morning
The competitors are now out on the course and are making their way to the overnight at Carnach (025281) at the east end of the small Loch na Leitreach, a place with a name on the map, but only one house, and that uninhabited. The Elite course started a short walk south of the event centre, with a massive climb from just above sea level to pick up checkpoints on either side, and at either end of the Five Sisters ridge, taking them, depending on the exact route chosen to around 1000m. More >>
Saturday courses with the controllers route choices now available.

Friday evening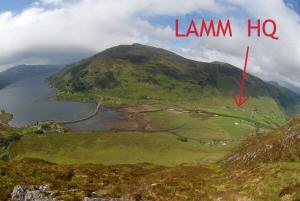 Around 1,000 competitors, who will be competing in teams of two, are now arriving for the 16th Lowe Alpine Mountain Marathon, at Morvich in Kintail - ready to spend the next two days, running and walking in the hills to the north of Glen Shiel. The total area of the event is approximately 400 square kilometres and includes 14 Munros (and there is a checkpoint on the summit of one of them) and The Falls of Glomach, which at 370 ft are among the tallest in Britain (and without wanting to give any spoilers it is possible that some competitors could see them). To the south west of the area in particular the hills are very steep with lots of rock, and overall the various courses are a little shorter, but with more climb than usual. More >>>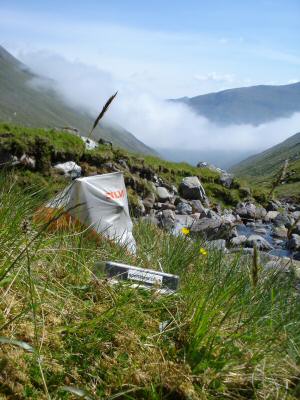 The LAMM venue is Morvich in Kintail. Morvich is reached by taking the A87 road towards Kyle of Lochalsh. Bear right to Morvich 1.5 kilometres after Shiel Bridge. You'll see a yellow LAMM sign. Follow the minor road for 2 kilometres until you reach a T junction and you'll have made it to the LAMM. Parking is on the right at the junction and the Event Centre is in a huge field to your left. It will be a very short walk with your bags. Please do not use any public parking. Best to fill up with petrol on the east side of Fort William if you are coming that way but a word of warning - the Mountain Bike World Cup will take place in Fort William this weekend so there will be extra traffic on the A82 and in Fort Bill. We also think the A82 is closed after 22:00 each night from Tarbert for a few miles to Inverarnan due to roadworks and if you hit this problem you will need to divert via Inverary and Dalmally. Have a safe journey. We look forward to seeing you from 3pm onwards.
Kintail is the area where a record 28 Munros were climbed within 24 hours by Jon Broxap in 1988 and it contains as large a concentration of big mountains as Ben Nevis and the Lochaber area. The Cluanie Ridge and Five Sisters of Kintail are very familiar to those who love the Scottish Mountains and big waterfalls. As with any LAMM this is big mountain country and in view of the weather forecast, the hills deserve extra respect and care. Think LAMM for spectacular mountain courses, think of an Autumn MM when considering what you need to carry! Our course planner is Angela Mudge, who has planned the LAMM courses on a number of occasions. Andy Spenceley, who planned our courses at Inchnadamph and Glenfinnan, is our controller. He reports that these mountain generally have fast running on ridges and good going on the grassy slopes, however some marked paths are very boggy..

ACCOMMODATION ON FRIDAY NIGHT
The Kintail area has a reasonable amount of accommodation but this year the B&Bs are really full. Please look at this list for availability.
The LAMM Team would like to thank Lowe Alpine for being our title sponsor for all 16 LAMMs. Thanks also to SPORTident UK, SIDAS and High 5 for their support. We look forward to meeting you all again on Friday.
COACH COLLECTION FROM INVERNESS HAS CHANGED - Find out more
UPDATED COURSE LENGTHS & DETAILS OF NEW SCORE COURSE - See Final Details
NEW FOR 2009 - 2 SI-Cards Per Team
Each competitor will carry an SI-Card and both members must punch at each checkpoint to avoid disqualification. This is intended to ensure that in future all unmanned checkpoints are visited by both team members. Both team members must visit registration to collect/show SI-Cards but it isn't necessary for both to visit at the same time.
LAMM TIME OUT TEE - Find out more.
SPECIAL ELITE PRIZE - Anders Morell who organises the BAMM - Bjorkliden Arctic MM has very kindly offered a prize of a free entry for the BAMM on 14 - 15th August 2009. The prize will include transport from Kiruna Airport and accommodation/food at the Bjorkliden Hotel the night before and after the event. The LAMM will upgrade this prize and we will pay for the appropriate flights from a UK airport to Kiruna. Bjorkliden is located 200km (124 miles) north of the Arctic Circle just north of Sweden's Abisko National Park, almost on the border with Norway.
ATHLETES ANGELS - SPORTS MASSAGE
For the second time this year, the LAMM will have on board the highly experienced Athletes Angels at the finish. Athletes Angels provide sports massage and physio for endurance and outdoor sports events across the UK and Europe and will be on hand to tend to weary muscles, creaky joints and any sprains or injuries at the end of the race. As many will know, a thorough sports massage at the end of an event can make all the difference in the recovery stages! For more information please visit www.athletesangels.com and to pre-register (highly recommended!) for an appointment please email info@athletesangels.com. The team will be at the Event Centre from 10.00 am on the Sunday and a 20 minute appointment will cost £10, if you wish a longer appointment please specify when you pre-register.
JON BROOKE PHOTOGRAPHY
Photographer Jon Brooke will be out on the course attempting to capture at least one image of every team. His pictures will be available to purchase online a day or two after the event via his website www.rightplacerighttime.co.uk. The images will be available as JPEG files for personal (non-commercial use). They come in two different sizes suitable for regular prints or enlargements. The large file would probably be acceptable up to A3 size at least. Those taking part in the Chasing start on Sunday will be wearing race numbers front and back and can search for photos using their race number. Payment can be made using any credit card (via Paypal) and no registration or other faffing is required. Prices are £4.95 and £7.95 respectively.
The LAMM Team would like to thank Lowe Alpine for being our title sponsor for all 16 LAMMs. Thanks also to SPORTident UK, SIDAS and High 5 for their support.We look forward to meeting you all again on Friday.
Martin Stone & the LAMM Team