Sunday
Sunday Photo Gallery | Competition Map and Courses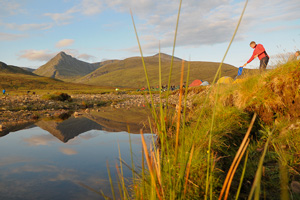 The day started at 5 a.m. not with acapela turbo-folk, but with Martin wandering around the campsite with his loudhailer telling everyone what a fantastic sunrise they could experience if they were to stick their heads out of their tents – and he wasn't wrong. Although the day ended yesterday with a bit of refreshing rain, today started in sunshine (that was only rarely interrupted by the odd passing cloud all day) and it did a great job of lighting up the eastern slope of Creag an Duine, a smaller sharply defined summit off the northwest side of Seana Bhraigh, a hill which dominated the view from the overnight camp.
Sunday at the LAMM is a chasing start for the leaders of all the linear courses and anyone who finished within an hour and a half of their day one times. The tightest margin for any of the leaders was on the elite course, where Duncan Archer and Jim Mann had only a 2 minute lead over their closest rivals, Dan Gay and Al Anthony. One might almost imagine that that could be down to the 100 gms they saved by carrying one of the new ultra-light Terra Nova Photon tents, which are so light they are almost transparent (I think it was the inspiration for Lady Gaga's pod from the Grammy awards). Anyhoo (as we're in Scotland) it looked like the elite was going to be the tightest race of day 2 as the first control was at the top of a 300 m climb up the north west spur of Seana Bhraigh and the chasers would be able to see the leaders all the way up. Alas, that was to be Dan and Al's downfall. So intent were they on not losing touch with the leaders that they lost touch with the terrain, and they somehow managed to confuse themselves on the way into CP 2, losing about 20 minutes in the process and effectively blowing their chances. Had they not made that mistake the race could have gone either way.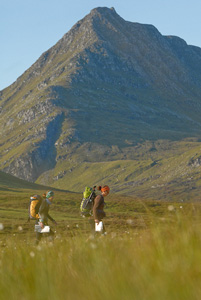 Last year we were stunned (OK, impressed, but we do have some tabloid readers to consider) by the performance of Andrew Llewellyn and Sarah O'Neil, who won the C class outright as a mixed pair in their first ever mountain marathon. Just to prove it was no fluke, this year they came back on the B course and won that outright too. We really do hope to see them again next year in the A class, and we may be running a book on the outcome. Andrew and Sarah incidentally are superb advocates of the sport of orienteering (as is Duncan Archer of the winning elite team BTW, not to mention several other top competitors). They met as members of the mighty SHUOC (Sheffield University Orienteering Club) and clearly their navigation is one of their strong points (no doubt they will be plotting their route for all to see on RouteGadget very soon – which if you don't already know about it is a superb application that lets you not only plot your route, but then watch an animated dot move along it whilst animating the routes of other competitors on the course – so you can effectively replay the race seeing how others on your course fared in real time).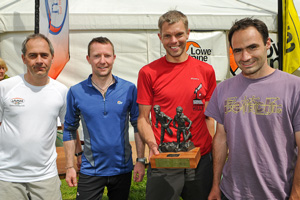 As I sit here at the finish line typing, our last team has just reappeared out of the wilderness – they were Nicole Jackson and Morven Menzies who have not done a LAMM before (I refrain from using the word virgin), but who nevertheless made the very sensible decision to abandon their course and head for the finish, once they realised that the courses had officially closed – so our thanks to them from the whole team for making it possible for us all to go home relatively early! In fact we are pleased to be able to report that all of our teams are now safely accounted for that that the event has passed without any major incidents or accidents, save for me losing my hat.
Once again the sands of time have run out and I have to stop typing. There will be a few items to add later on in a roundup of as yet unreported tidbits, not least the amount you have managed to donate by drinking towards the Arrrochar Mountain Rescue.
Jon Brooke
Jon took over 2000 pictures over the weekend and they are available to view or buy from his website at www.rightplacerighttime.co.uk