Round up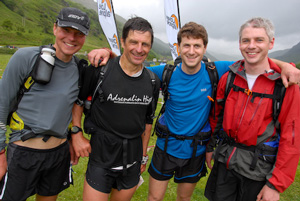 Over the weekend we have tried to give you some insight into the 2010 event, but in the course of writing the live reports we also heard a few other stories and news snippets that we just didn't have time to write up. So here in no particular order are a few more items that might be of interest.
First of all, news of another international event that might appeal to LAMMers, the Icebug 24 (www.icebug24.com). This is a 24 hour rogaine (score event) held in Sweden on 30-31 July and its race director is Björn Rydvall, one of this year's fourth place Elite team. He extends a warm invitation to any LAMMers who would like to take part and also points out that there is a first prize of 24,000 SEK, which is even a lot in real money.
This year the catering at the LAMM was done by Scott's (the catering company formerly known as Wilf's). Although we miss seeing Charlotte and Jane at the event, Jane and Ean Scott and their staff have certainly picked up the ball and run with it and did a great job over the weekend despite having a huge unforeseen problem to deal with. On Friday they were due to have all of their fresh food delivered direct to site, but the supplier forgot to send the milk, pitas, cheese and sausages. Once Ean had spent a couple of hours on the phone explaining just why a day's delay was unacceptable it was eventually agreed that the order would be dispatched immediately by taxi from Glasgow. In the end no one went without a sausage sandwich or a cup of tea for breakfast, but catering on this scale isn't always a bed of roses.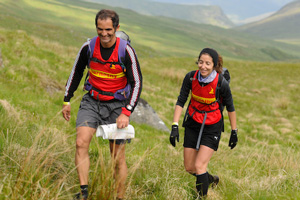 We wouldn't want to hazard a guess at the average age of LAMMers, but it is always good to see new young(ish) blood coming into the event. However, sometimes young people need a bit of encouragement. Tim Laney (partner of Spyke in the Elite category) is a biology teacher who also organises outdoor pursuits in his school and does his bit to encourage youngsters to get out there. This year he had the pleasure of crossing the finishing line just before a pair of his former pupils from around 10 years ago whom he had introduced to outdoor adventures. They were Adrian Braun and Paul Sharrocks who finished 52 on the B course.
Finally, news of a little mishap that befell our Spanish competitors Ramon and Ana. Unused to mountain marathons they made the mistake of punching the last control at the footbridge and then going straight away to put up their tent and start cooking. By chance the planner Andy Spencely noticed that they were camping but hadn't recalled them finishing. Soon their, whatever is Spanish for faux pas, was revealed and they hot footed it over to the finish to record the worse run in time of the day at around 48 minutes. However, in a spirit of whatever is Spanish for entente cordiale, an adjustment was made to their time so as not to apply an overly harsh penalty.
Jon Brooke