Friday
Friday Photo Gallery | Competition Map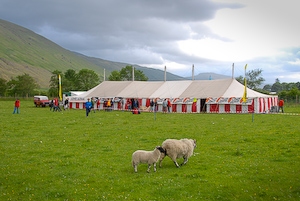 Competitors are assembling at the head of Loch Fyne, a stone's throw from the famous Loch Fyne Oyster Bar. And the really good news is – the beer has arrived.
The LAMM has built its reputation not just on a rock solid event, but also on making the best of any quirky local features it encounters. This year is no exception and the good news is that every competitor who finishes will take away a special commemorative bottle of LAMM beer, brewed by Fyne Ales on the Achadunan estate just across the river from the Event Centre on the Ardkinglas estate.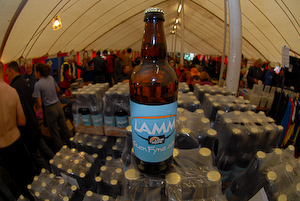 Not only that, Tuggy Delap, owner of the Achadunan estate, and the brewery is currently pulling pints in the LAMM marquee which are free for competitors, but with a donation being asked for for Arrochar mountain rescue who are currently fundraising for a new Landrover.
Arrochar mountain rescue are of course the "house" Mountain Rescue Team of the LAMM ever since they volunteered their services at the very first LAMM in 1994 based at Arrochar on an area with a large overlap on this year's event.
This year the course stretches mainly to the N and E of the event centre at the head of Loch Fyne taking in around 250 sq km of hills and lochs, dotted with some small pockets of forestry.
One competitor who should remember some parts of the course is Stephen Pyke (Spyke) who is entered for the Elite race with his regular partner Tim Laney.
How you may ask, did he come to be on the course just weeks before the event? Surely, reccying is strictly forbidden? Well the answer is that he would have some recent knowledge of any course anywhere with a Munro in it, as he has just completed the fastest Munro round, running all of the Munros (283 of them) with linking stages by bike or kayak in just 40 days. Read Spyke's blog of the run at http://munros2010.blogspot.com/ Whether his efforts have left him exceptionally fit or completely knackered we are yet to find out. But we hope he will have some energy left at the end of the weekend to help with the prizegiving.
Apart from completing this amazing personal endeavour, Spyke is also trying to raise awareness (and membership numbers) of the John Muir Trust which is a leading UK charity dedicated to the protection of wild land for both nature and people. He hopes that one result of his efforts will be to attract 100 new members. Further information on the Trust is available on their website.
Spyke's record breaking round was actually his second, but another LAMM competitor has done a few more with 13 rounds completed. That man is last year's A class winner and Munro bagger extraordinaire Steven Fallon. He is here again in the A class, but this time in a Mixed Vets team with partner Jacqui Higginbottom.
Last year's elite winner Andy Symonds is running with a new partner this year, his brother Joe. However, as they are sponsored by Inov-8 and Salomon respectively, if they happen to make the podium this time they will be posing separately for photographs. Other prospective candidates for the top of the elite race could be Jonathan Aylward and Stephen Bottomly, last year's third place elite team.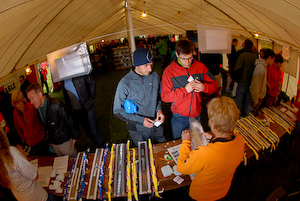 Once again the first prize in the Elite category is an entry to the BAMM, the Björkliden Arctic Mountain Marathon, donated by the organisers but with flights paid for by the LAMM. Further info on that event at their website.
Of the 500 or so teams competing this year, we think the elders of the race this year (just) are Derek Graves and John Tasker in the C class, who, according to the online list of entrants have a combined age of 137. We also notice that although Derek is a veteran of 8 LAMMs, this is John's first, so good luck chaps!
In the D class, where we expect to find novices there are 60 teams with no previous LAMM experience, almost half of the competitors on that course. A good sign that interest in mountain marathons is still growing, and with the sort of terrain the teams will be experiencing this weekend AND free beer, why would it not?
The competitor with the most LAMMs to his name, once again is Brian Layton, and unless he decides to take up golf he's probably going to maintain that position as he's the only competitor to have done all 16 previous events.
The team with the most experience though is that of David Thompson and Keith Bell on the C course. They have clocked up 28 LAMMs between them, 14 each. Among the women's teams Vicky Crawford and Sue Hands have completed 27 LAMMs, Vicky having done one more than Sue, and this year they are giving the score class a go.
Hopefully as the weekend progresses we will be able to introduce you to some more of the teams and helpers that make this such a great event, but now, off for a pint of Fyne Ale – cheers.
Jon Brooke