Sunday
Changing places at the top
Photo Gallery | Map of Competition Area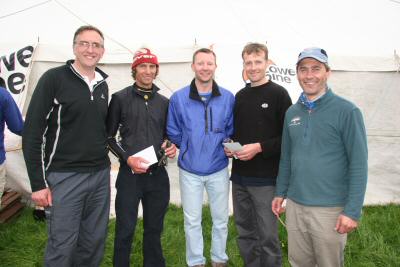 The winning places were hotly contested on Day 2, with radical changes in position of the leading teams on several courses. The chasing starts made for exciting racing and, under the pressure, a few top teams made serious mistakes.
Last year's Elite winners, Kenny Riddle and Alec Keith, were a minute and half behind the leaders and pursued them uphill from the start. However, thinking the leaders were taking the wrong line, they went their own way to the first control – only to spend 40 minutes looking for it in the wrong place. They had got the wrong grid line when fixing its position and were 1km out! The mistake meant they dropped to 6th place.
That left Jonathan Aylward and Stephen Bottomley a clear run to maintain their lead and take the LAMM trophy as Elite winners. Second and third teams had both made up places. They were Tim Laney and Stephen Pyke, followed by the brothers Kevin and Quentin Harding.
Dan Gay and Murray Strain, who were placed first overnight, held their lead to win the A course. On the B course Matthew Davis and Chris Beadle, also kept their lead to come in first.
There was drama on the C course. While I was taking photos in the hills, the two leading teams passed, telling me that the previous control, 155, "was missing". Five minutes later a third team (C2) came past and said they had found it fine and had gone straight to the stream junction.
The D course – possibly for the first time (we'll have to check the record books) – was won by a female team. In a titanic struggle, Diana De Bellaigue and Suzie Allison, rose from 11th place overnight to win the class.
The mid camp was a long distance and several Munros away from the finish. The 19km D course came almost straight back, so it was too far for the Novice teams. So the organisers laid on a minibus to ferry them up a steep road to a col, to reduce their overall distance and climb. However as I write this at 7pm, the last Novice team is reported to be 3km away and refusing a lift in the mountain rescue team Landrover.
The prize giving was at 3pm, in order to allow the coach to depart form Glasgow airport. This was too early for some – for instance the Elite mixed team winners who came in later. Dave Suddes of Lowe Alpine and Tony Waterhouse, of the Scottish Agricultural College, presented the prizes.
Felicity Martin