Dryflo Tee Shirts
This year we will offer another special edition Lowe Alpine tee shirt bearing the LAMM 2006 logo. Lowe Alpine's Dryflo garments have always been very popular at the LAMM and this year they are even more stylish. For the ladies we have the Womens Lightweight Dryflo Short Sleeve in Deep Cobalt and for the men and ladies we have the Dryflo Sport Tee in Deep Red and Stargazer Blue. Even with the special LAMM 2006 logo applied, the price of £20 means that you will not be able to purchase these items more cheaply elsewhere.
We have ordered 400 garments, enough for 40% of the competitors. They can be purchased during the weekend in the marquee. Dryflo has been extremely popular this year and by mid-June, Lowe Alpine may not have much extra stock available for us to order after the event. Not surprisingly, the advice is - BUY EARLY.
Here are some images of the tees. The tees you purchase at the event will of course show the LAMM 2006 location rather than "Scottish Highlands"!
Women's with sleeve print: Deep Cobalt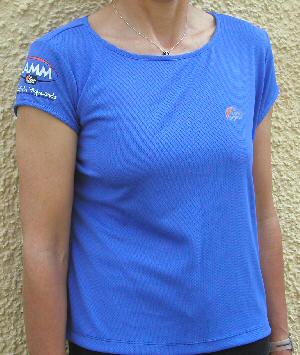 Unisex with breast print: Deep Red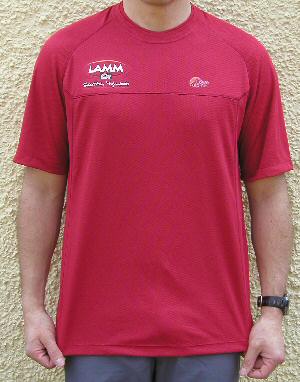 Unisex with breast print: Stargazer Blue