LAMM 2002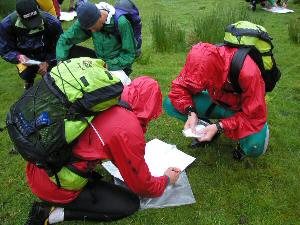 The 2002 Lowe Alpine Mountain marathon took place near to Brig O' Turk in the Trossachs with the Event Centre at Achray Farm. Elite and A competitors were running over Ben Venue and adjoining hills from outflow of Loch Katrine while some 640 competitors on the B, C, D an Novice courses enjoyed an early morning trip to the start at Stronachlachar on the steamship Sir Walter Scott. Weather conditions were without precedent. More rain at this time of year than for half a century which made the Event Centre, midcamp and conditions underfoot extremely wet.
Competitors awoke each morning to the sound of bagpipes courtesy of Niall Watson, one of our marshals. For those who are interested the tunes were - Saturday: Captain Norman Orr-Ewing, The Earl of Mansfield. Sunday: 10th Battalion the HLI Crossing the Rhine, Pipe Major Donald Maclean of Lewis.

Congratulations to all competitors for coping with the wettest LAMM in nine years. Many thanks to everyone who contributed to the success of the event, especially after the Black Water flooded our original 5 hectare Event Centre site.
Overall Results | Day 1 Checkpoint Times | Day 2 Checkpoint Times
Check out the galleries for photos from the event
CONGRATULATIONS TO ALL PRIZE WINNERS
We offer one prize per team and if a mixed, ladies or veterans team is in the top 4 places, the category prize drops to the next pair in the same category. There are no prizes on the novice course:
| | | | | | | | | |
| --- | --- | --- | --- | --- | --- | --- | --- | --- |
| | ELITE (from CP2 Day 1) | | | | | A | | |
| 1 | Mark Seddon/Mark Hartell | 09:04:34 | | | 1 | Julian Simpson/Alistair Buckley | 10:18:54 | |
| 2 | Nigel Bunn/Ifor Powell | 09:04:44 | | | 2 | Marc Laithwaite/Tony Smith | 11:25:38 | |
| 3 | Steve Birkinshaw/Morgan Donnelly | 09:07:11 | | | 3 | Tim Austin/Jon Boyle | 11:47:37 | |
| 4 | Simon Bourne/Alan Ward | 09:18:34 | | | 4 | Rigby Jerram/Paul Simpson | 11:57:24 | |
| 9 | Janice Mudge/Andy Spenceley | 11:07:19 | Mixed | | 10 | Phil Pittson/Nick Lander | 12:42:23 | Vet Handicap |
| 10 | Liz Cowell/Jane Meeks | 11:10:33 | Ladies | | 15 | Jane Grundy/Joe Faulkner | 14:05:37 | Mixed |
| 12 | Gary Tompsett/Ranulph Fiennes | 11:12:32 | Vet Handicap | | | No Ladies Team | | |
| | | | | | | | | |
| | B | | | | | C | | |
| 1 | Jeremy Edwards/Roger Goddard | 10:11:57 | | | 1 | Karen Dalton/Rob Davison | 09:01:45 | 1st Mixed |
| 2 | Bob Johnston/Charlie Stead | 10:42:17 | | | 2 | Hilary Bloor/Ruth Hambleton | 09:28:37 | 1st Ladies |
| 3 | Andy Lewsley/Lewis Preston | 10:44:52 | 1st Vet | | 3 | Graham Watson/Simon Horton | 09:37:26 | |
| 4 | Mark Yearsley/Steven Wright | 10:45:17 | | | 4 | Sarah Boughton/Ian Nicol | 09:41:00 | 2nd mixed |
| 17 | Rebecca Kendall/Per Sjogren | 12:50:58 | Mixed | | 18 | Debbie Smit/Anthony Emmet | 10:27:14 | Mixed Prize |
| 26 | Fiona Dahl/Kate Charles | 13:18:27 | Ladies | | 29 | Les Swinden/Geoff Causey | 10:52:43 | Vet Handicap |
| 38 | Chris Lates/Raymond Wren | 13:47:26 | Vet Handicap | | 31 | Liz Horton/Lilian Wanless | 10:58:47 | Ladies Prize |
| | | | | | | | | |
| | D | | | | | Novice | | |
| 1 | Scott McKendrick/Thomas Begley | 08:50:41 | | | 1 | Lucy Hailey/Mal Fletcher | 10:44:59 | |
| 2 | David Egerton/Richard Tyson | 09:28:54 | | | 2 | Neil Orr/Robin Orr | 11:07:31 | |
| 3 | Neil Thomas/Alasdair Hind | 09:29:01 | | | 3 | James Hornby/Tobias Ling | 11:59:14 | |
| 4 | Lucy Makinson/Douglas Gurr | 09:34:41 | | | 4 | Paul Caldwell/Helen Austin | 12:21:35 | |
| 8 | Caroline Davidson/Philip Shipman | 09:54:03 | Mixed | | | | | |
| 11 | Dave Beautyman/Nick Lowe | 08:37:28 | Vet Handicap | | | | | |
| 15 | Stella Lewsley/Gill Hale | 10:12:37 | Ladies | | | | | |