LAMM 2004 - DAY 2
Photo Gallery | Day 1 & 2 Routes | Overall Results | Day 2 Checkpoint Times | Prize Giving
Event Preview | Saturday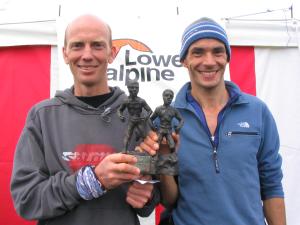 Day 2 saw a surprise upset on the Elite course. The first day leaders, Ifor Powell and John Hunt started strongly at 6am and reached the finish line four a quarter hours later – in a time that planner, Angela Mudge, thought was "ridiculously quick". It was only when they downloaded their SI card that it became apparent that they'd missed out the fourth control. Brothers Jim and Phil Davies finished half an hour later to receive the startling, but very welcome news that they were the winners.
On the A course, Day 1 leaders Jeff Green and Darrell High pushed themselves hard to extend their lead to 17 minutes and take first prize. The winners on other courses were: B – John Helme and Simon Richardson; C – Richard and Timothy Lawes; D – Robin Orr and James Kellock; Novice – Peter and Sarah Ball.
Although not as wet and windy as Saturday, the teams soon climbed into cloud where good navigation was essential to save wasting a lot of time. Several teams followed others to the wrong first control (some 600m off course) then had to relocate and head off on a fresh compass bearing. Even at the first C control, which was below the cloud, I saw many teams milling around trying to find it. One pair (no names!) came within 100m, didn't spot the flag and went searching elsewhere for half an hour.
Despite the atrocious weather yesterday and thick, drizzly cloud today, the vast majority of teams successfully completed the two days. Race Director, Martin Stone confirmed that on Saturday there were a number of mild hypothermia cases and several teams had to be evacuated quickly back to the Event Centre.
From 429 teams that started on Saturday, 100 had pulled out by the end of Day 1 and most didn't start Day 2. A further 30 dropped out or mispunched controls on Day 2, leaving nearly 300 who made it the whole way.
Martin said, "Teams reported that these were the most remarkable conditions they'd ever encountered on a mountain marathon. It's amazing that snow was settling on the tops so close to the longest day.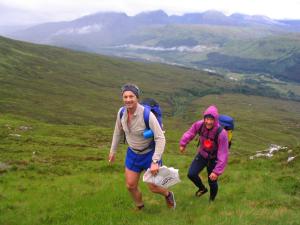 "What caught people out was that most had come up from the south, where they'd been experiencing a heat-wave. Here four inches of rain fell in the last week – the planner and controller and their helpers had horrible conditions for putting the controls out.
"The Event Centre field was impassable until Friday then quickly became boggy again on Saturday. We've been relying on the local farmer to tow vehicles out with his tractor.
"But the sun came out as usual for the prize giving and finishers have been saying they really enjoyed their second day. On top of that Dave Suddes of Lowe Alpine has confirmed their support for the event next year."
The prizes were presented by Ewen Macpherson, owner of Attadale Estate – the largest estate crossed by the courses this weekend. His co-presenter, Ranulph Fiennes, didn't turn up until after the prize giving, having made it round the Elite course, finishing as first veteran team with Yiannas Tidimas. The sun's still shining as helpers pack up and teams begin the journey home.