LAMM 2004 - DAY 1
Photo Gallery | Day 1 Routes | Day 1 Results | Day 1 Checkpoint Times
Event Preview | Sunday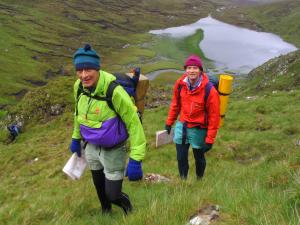 This was a LAMM day that many will long remember, preferably from the comfort of an armchair in front of a warm fire – with dry clothes on. It may be only two days to midsummer, but that doesn't stop it snowing in the Scottish Highlands!
The day dawned dry, but with heavy, low cloud as Neil, the regular LAMM bagpiper, roused the campers at the Event Centre at 6am. After a cold night Rick at Compass Point was selling thermal tops to those who realized the weather was going to be very different from last year's event at the Spittal of Glenshee. Each update of the weather forecast looked worse – wetter, windier and chillier.
Shortly before 7am the first wave of competitors headed of to their mystery assembly points. Elite and A were directed to Strathcarron railway station where they caught the Kyle of Lochalsh to Inverness train one stop up the glen. B to Novice found a fleet of buses waiting to drive them 20km up the road – further than the start for the longer courses.
B to Novice disembarked by Loch Sgamhain, ducked through a culvert under the railway and started at the foot of the Munro Moruisg. The novice had the most climb initially – straight up to the summit.
In increasing rain, B, C and D teams made rising traverses towards various control above a couple of corrie lochans. Then came the hardest route choice of the day – up and over or round? Those that climbed to avoid peat hags found themselves in a snow blizzard on the higher ground.
B to Novice course made clockwise loops, whereas the Elite and A traveled anti-clockwise, passing over even higher ground, including the rocky country around the 1053m peak Sgurr a' Chaorachais.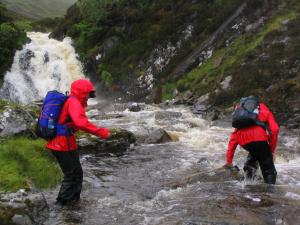 With horizontal rain and snow the hills were soon streaming with water and the rivers foaming. Crossing them required a bit of guts and some teams chose to miss the final control rather than face yet another river. However, they could usually be waded through without too much difficulty if the right spot was chosen – even if that was just below a thundering waterfall!
For many teams the day became a survival exercise – a matter of keeping going and keeping warm enough. Fewer and fewer teams could be seen running, as the competitive spirit was gradually dampened. However, there were plenty of smiles at the finish line (maybe of relief!).
Ifor Powell and John Hunt were the fastest Elite team on Day 1, completing the course in 6 hours 7.5 minutes. Brothers Jim and Phil Davies were 12.5 minutes slower and Adrian Davis and Alec Keith were in third, another 12.5 minutes down.
At mid-camp the A course leaders are Jeff Green and Darrell High, who got round in just under 6 hours 40 minutes. Anthony Squire and Chris Godfree are in first place on the B, with a time of 5 hours 51.5 minutes.
A mixed team is leading on the C course – Kate Boobyer and Rupert Kempley, who took 5 hours 39.5 minutes on Day 1. Robin Orr and James Kelloch lead on the D course, after 3 hours 55.5 minutes out. The quickest Novice team on Day 1 was Les and Duncan Short, in 5 hours 1 minute.