LAMM 2004 - EVENT PREVIEW
Photo Gallery | Map of Competition Area | Updated Weather Forecast
Saturday | Sunday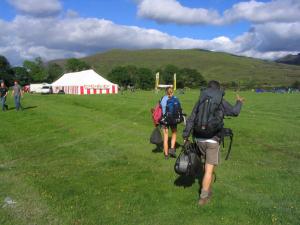 The slow trickle of teams arriving to register this afternoon has built up during the evening, as more people found their way by plane, train, coach and car to Glen Carron in the northwest Highlands. After bombing up the M6, the final few miles of single-track road were a timely reminder that progress from now on will be rather more tortuous.
The entry of 480 teams is just short of the 500 limit and there is good competition in all classes, with many past winners in the running. Some of Sweden's top orienteers are taking part in the Elite course. Jonas Nyberg, who has never done a mountain marathon before, will be partnering Emil Ljungdahl.
B course entrants include Peter Carter and Stephen Forster from Lancashire, who've always entered the C before. They've kept themselves fresh by stopping for B&B in Aviemore on the way up and report that it was snowing on the top of Cairngorm this morning. (No they didn't jog up for a bit of pre-race training).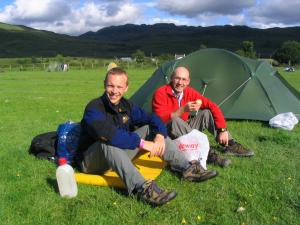 By contrast, Toby Miles and Phil Carpenter sometimes do the B course, but have opted for C this time, partly because of the extra traveling. They will be doing their ninth successive LAMM together. The pair became climbing partners while studying for PhDs at Loughborough University and the LAMM was just "something else to do".
Also on the C course are Anna Harris and Saskia Hart. Last year was their first ever mountain marathon and they were 1st Ladies on the D course (13th overall). At the time they were in the middle of their final year exams. They report that they passed their degrees successfully (exercise is good for the brain!). Both are now at Sandhurst and are fighting fit.
Another Ladies team with a difference is on the D course, where Karen Clarke is doing her first mountain marathon with her mother, Shirley Hay. Shirley is more normally seen partnered by Ian, but some years ago competed with her son. Let's hope Karen doesn't come back saying the same as him: "It was the worse thing I've ever done in my life!"
Essex lads Mark Ridley and Chris Cann have brought their England flags, but were more concerned about flying the flysheet of their new, as yet unerected tent. Their training has been around paths, up "nothing higher than 20m". Chris commented, "When I saw the climb we'll have to do, I thought they'd put the decimal point in the wrong place."
Since I started writing a rainbow has appeared over the Event Centre. Sunshine has given way to shower clouds in an ever changing sky – much like tomorrow is predicted to be.
Felicity Martin