SPORTident Scottish Mountain Marathon
Isle of Harris, Outer Hebrides
A Two-Day Mountain Competition for Pairs with Overnight Campsite
2nd Race in the British Mountain Marathon Championship
Friday 1st/Saturday 2nd June 2018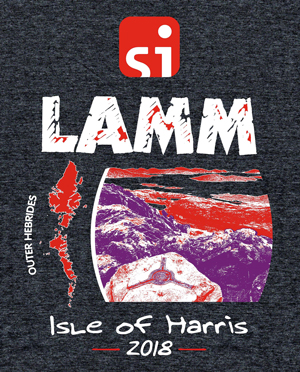 I feel very privileged and super excited to be organising the 2018 event on a Scottish island again. It's been far too long - 14 years since Isle of Mull and 21 years since the 1997 Isle of Jura Classic. Watch this historic 1997 Jura video Part 1 & Part 2) and feel the vibe of an island LAMM. The LAMM will be the biggest sporting event ever held on the Outer Hebrides - the Connoisseurs Mountain Marathon. It is the first time since 1997 that I have released the location more than 36 hours before the event but this year is far too big a deal to keep the location secret! I want you to have plenty of time to plan and make the most of your adventure on the beguiling Outer Hebrides.
The 2018 tee shirt graphic is designed by our friend Stuart Brown, who has been producing graphics for LAMM tees for more than 20 years. It's a nod to Harris Tweed tartans and follows the LAMM's unique, quirky and stylised design. It depicts the isolated but iconic arcing island chain of the Outer Hebrides which is a must on the bucket list of anyone who enjoys the wild outdoors. It captures the essence of Harris with mountains tumbling seaward and it includes one of the island's stand-out views which many of you will experience when you visit the trig point at control 36!
We are providing a unisex and ladies cotton tee in Dark Heather with the LAMM logo on the sleeve. The main graphic appears on the front of the unisex tee and the back of the ladies' tee. It is based on a photograph by my friend Andrew Leaney who now lives on the Isle of Harris, only 6 miles from where the photo was taken.
Order LAMM Tees here.
IMPORTANT - BEFORE YOU ENTER ENSURE YOUR PARTNER IS REGISTERED WITH SIENTRIES
Our event is the second race in the 2018 British Mountain Marathon Championship. Registration with SiEntries is essential if your partner is taking part in the Championship as each person needs to be identified throughout the series by their own unique SiEntries ID. Contact your partner and ensure that they have already registered to use SiEntries. They should then give you their SiEntries ID (not the same as their SI-Card number) and postcode. If they have not yet registered with SiEntries, please ask them to do so by visiting www.sientries.co.uk. Once you have their SiEntries ID, surname and postcode, you will be able to enter them as the second member of your team without needing to type in any of their personal details. After you have entered the event, the person who made the original entry can use the EDIT MY ENTRY option on the event website to View/Edit the entry.
SPORTident Scottish Mountain Marathon
An Teallach, Fisherfield & Fannichs
A Two-Day Mountain Competition for Pairs with Overnight Campsite
3rd/4th June 2017
Results - Saturday, Sunday, Overall, RouteGadget, Outdoor Champs, Uni Champs
Prize Giving Photos, Photos, Competitor Photos - Competition, Control Descriptions
Competitor Feedback, Martin's Roundup, Planner Andy's Report, Order LAMM Tees
Reports - Friday, Saturday, Sunday, Overnight Leaders Reports, Winners Reports
Jon Brooke's Photos - Everyone, Lost Property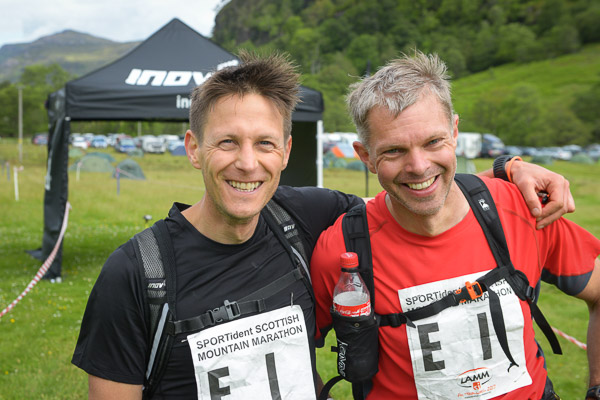 Elite Winners - Shane Ohly and Duncan Archer
So last night the final unaccounted for team did turn up at 10.30 pm after 15 hours out on the hills, they were Shaun Wilde and Nick Day who were on the Elite course. Read More...
Sunday 16:30: Winners Reports
Sunday 16:00: Latest Results (Nearly everyone back)
Sunday 14:20: Latest Results
Sunday 13:00: Latest Results
Sunday 11:45: Early Results
Sunday's Courses: Elite and A, B, C and D, Score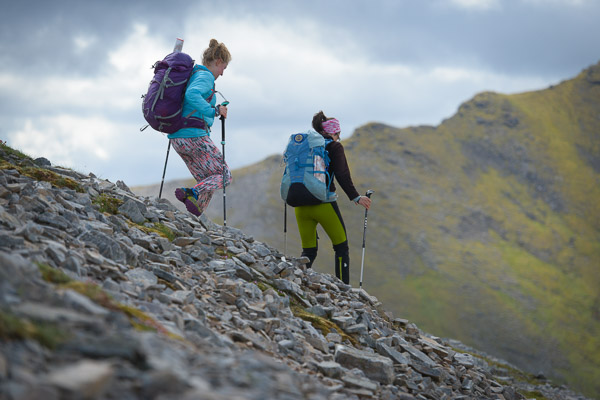 Saturday 21:45: So, of course the photos that I've put up with this report make the event look idyllic, but that's because I stopped shooting when it started hailing. Read More...
Saturday 21:00: Results from mid-camp
Saturday 20:00: Overnight leaders Reports
Saturday 18:00: Results from mid-camp
Saturday 16:00: Results from mid-camp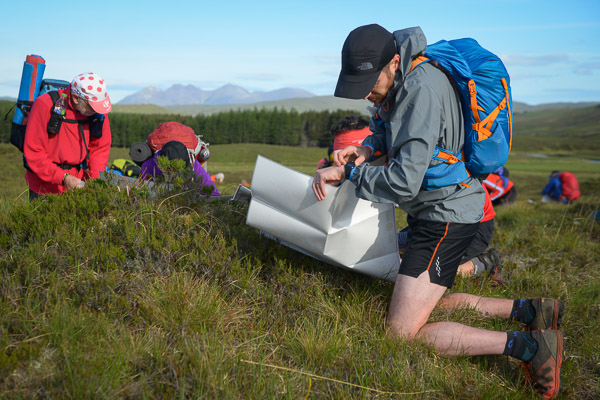 Competitors planning their attack on the score course. In the background is An Teallach – the elite course skirts around the back of the mountain.
Saturday 10:10: The sun is out, the midge level has been reduced from critical to severe and the competitors are getting out onto the courses. There are four different start locations...Read more...
Saturday's Courses: Elite and A, B, C and D, Score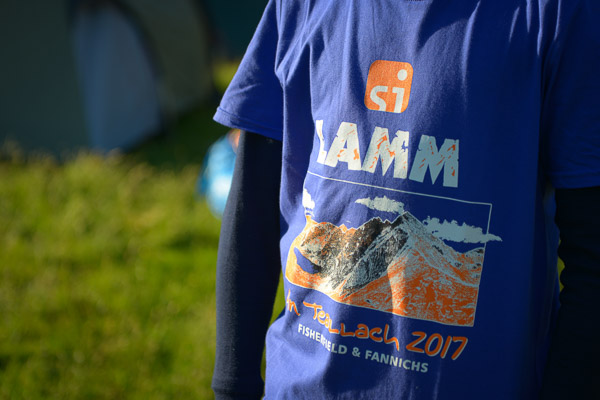 Friday 23:30: At the height of Sparta's power – between the 6th and 4th centuries BC – it was commonly accepted that one Spartan was worth several men of any other state, and so it also goes that one LAMM competitor is probably worth several competitors from any other event. Read more...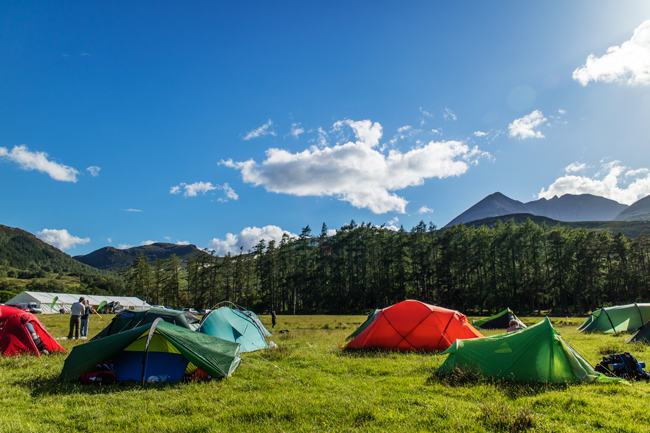 The event centre in Dundonnell
Friday 17:22: Want to see the competition map? Click Here
Did I just hear a Wow! Chapeau to those of you who guessed the three iconic Scottish Mountain ranges from the recent clues.
We've been working on this venue since 2014 (on and off). When you hold the map for the first time on Saturday morning, you may be filled with a sense of wonder (and trepidation) at the immensity of the area and the challenge ahead of you. We are so fortunate to be able to cross all these mountains in a weekend. Those with access to the Internet on Friday night will be able to see something of significant interest from 18:00 at www.lamm.co.uk!

The event centre is in a very flat field behind Corrie Hallie IV23 2QN, 2 miles south of Dundonnell on the A832. The arrow on this map shows the Event Centre field. You'll see yellow LAMM signs turning you off the main road, signposted to Badrallach. Please drive slowly and follow marshals directions to park on the field. Camping is away from the cars, nearer to our big marquee. Please don't camp in the taped channel which is required for vehicle access to the marquee. Please read and print the Event Details and also check out the Final Details. There will be Ales courtesy of the very local An Teallach brewery.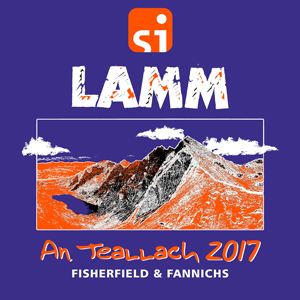 PLEASE GIVE A LIFT TO LAMMERS FROM INVERNESS AIRPORT/TOWN
Please help those who are flying to Inverness or arriving by rail or bus to get a lift or share car hire. Visit our Transport From Inverness page.
Have a safe journey. We look forward to seeing you on Friday from 3pm onwards and registration opens at 4pm.
Martin and the LAMM Team
Find out why folk love the LAMM so much - read the Strathcarron 2014 feedback here and watch our film of Strathcarron 2014.
Film of LAMM 1997 Isle of Jura Classic
Watch the film of our magical event on the Isle of Jura and remind yourselves of that wonderful weekend in 1997 - a 45 minute film in 2 parts at: http://vimeo.com/92236923 and http://vimeo.com/92236924