Winners' Reports
Elite Winners – Jonathan Aylward and Stephen Bottomley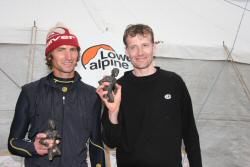 It was almost pleasant not having to rush to catch a ferry or stop for a break at Inverness, knowing you still had 2 or 3 hours driving left to do. However, I'm sure I wouldn't be alone in wishing for more adventures like the steam train (I have to confess I'm a bit of a train buff) or the boats, so let there be more!
Anyway, Crianlarich… nice field, no midges and a Wilfs led to bed and worries of how much of a whipping I would get trying to follow Stephen and how many arguments would ensue the following day. Steve's motivational techniques involve shouting things like 'put the map away and just run', and 'close that gap, they're getting away from us'– and do you know what? It bloody works! The key for me was can I stay focused, concentrate for 12 hours, and not make a mistake? Running with Mr Bottomley forces you to do this.
For what turned out to be a successful weekend of racing, the start was very inauspicious.
'…I feel sick'.
'…come on guys, everyone's packing up so you'll have to start- you're the last!'
From the outset it was clear that coping with the heat would be crucial to running quickly. Steve favoured what looked like a wet suit shorts (they aid recovery apparently) and I resorted to plunging my head into water at every opportunity!
Just coming over the shoulder to checkpoint 2 I glanced down at my compass – 'hmmm, that's interesting, a needle that doesn't spin – shit'.
'Steve. Your compass, where is it?'
'Buried'.
I remembered that Steve, in order to get everything into his 10 litre sac had resorted to standing in it. We would lose valuable seconds and minutes trying to find it. The vis was excellent and the control features looked easy to find, so I decided to do without a magnetic aid and carry on.
By this time Steve's stomach had settled and we'd begun to catch some of the teams that had set off earlier. Saturday's course seemed to be set up to allow plenty of route choice and 2 to 3 presented the first. Rather than make what looked to be a high traverse through a couple of valleys, we decided to drop down to a fast track with some extra climbing at the end. The next few controls passed off without incident then from 6 to 7 the route seemed obvious; up a valley and then skirt round the summit of Bein Chreachain except that Martin Beale and Steve Watts, who we'd been racing and gaining time on slowly, appeared just behind us on the ridge from Meall Buidhe, almost catching us up! It was at this point that we were rewarded with the best views of the weekend, a stunning vista across Rannoch Mor to the Ben, Grey Corries, Mamores and the Buchaille in Glencoe. Wow!
For the remaining controls it was a game of cat and mouse with a sprint finish to the haven of rest at the overnight. As I'd been feeling sick for the last 2 hours of racing, the only thing I could do was to lie down to try and control the waves of nausea. Turned out we'd posted the best time, just, and only by virtue of the sprint into camp.
In an attempt to save weight, I'd only taken the end poles for the tent, and with light winds forecast, this should have been ok, right? Wrong! I'd brought the wrong poles! The beauty of the LAMM is the nice, warm long Saturday evening chatting to friends, that is, of course, as long as you aren't the butt of humour from everyone who knows you for having half a tent lashed together in a Heath Robinson fashion. Amid the squalor I'd acquired the title Captain Chaos.
Standing at the start line we felt relaxed, had a bit of banter with the marshals about the size of our rucsacs, and set off at a steady pace. The first control looked reasonably straight forward, though hitting the correct re-entrant required a little care. Alec and Kenny got to within 20 seconds of us when we got near to the control, when Steve spotted it and dibbed. We then fully expected Alec to come tearing across at any moment. They didn't and, having marked their map up wrongly, didn't expect to be near it, and therefore, didn't see it. We couldn't believe our luck, but, thinking they would be only just behind us, put in a series of quick splits to press home the advantage.
5 to 6 was a long leg and we managed to find a quick route that picked up a track for some fast running. Of course by this point, Steve was carrying both sacs on the hills, whilst I seemed to be a little quicker downhill and traversing.
Just as we were coming to 7, the last control to present a serious navigational challenge, the clag came down, so I decided to play safe by taking a bearing from the nearest definite point, a lochain, rather than the quicker but riskier contour round. Whoops of delight at finding it straight away brought another team that had overshot it back to the correct place, between two knolls (I think they were team A1). All that remained was the last hill then the final swoop to the finish. However, I switched off mentally here and we made a four minute error coming down the wrong side of the hill (sensing victory, Stephen had stopped shouting at me by then).
As we ran along the final track to the line Matt Davis shouted 'you're first!', and it was only then that the waves of nausea were replaced by waves of emotion at finally winning a mountain marathon.
Many thanks to martin and all the marshals for putting on yet another fantastic LAMM.
A Course Winners – Dan Gay and Murray Strain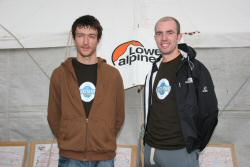 Thanks also for a great weekend. That was my third attempt at the LAMM after a forgettable 'B' class in Mull '05 followed by 7th in the 'A' last year with my brother, so I'm pretty happy to have made it to 1st place -- although this means I now have to move up to elite.
I'm not sure whether Murray will be back in a hurry, having lived up to the latter half of team Gaystrain's name by damaging his foot on the Sunday. Unfortunately for me it sounds like he will revert to sprint orienteering and short hill runs for the time-being. So it seems like I will be inflicting myself on a new partner. I must say, though, that the idea of races which last 12 minutes did sound particularly appealing whilst we plodded over the final hill after 11 hours.
I haven't much to add to our online meanderings from day 1 except to say that the campsite was one of the best yet, and I can't remember appreciating a cold Scottish river as much as the river Lyon(?) on Saturday afternoon. I am also amazed at what a different complexion LAMMs seem to put on an area. I had bagged several munros in the area over the years and cycled past the campsite about a month earlier, yet it all seemed strangely foreign.

As the results show, despite a superb sleep we slowed somewhat on day 2, and even the mighty Murray's navigation didn't take us exactly to the square metre of each checkpoint. I am not passing the buck here as I had slowly come to realise that any verbal navigational efforts were surplus to requirements, my inputs becoming more and more monosyllabic as the day continued. We managed to run past checkpoint 1 and looked for two minutes on the wrong river. Checkpoint 2 went very smoothly, apart from the sound of barking dogs at the farm behind us -- like something out of a second-world war prison escape movie -- signalling that our pursuers were catching us.

We navigated to the wrong knoll at checkpoint 3, after which things began to grind into gear. A bit of a singsong helped to raise spirits and we made good time whilst contouring round Sgiath Chrom. Neither of us had been able to stomach many muesli bars the whole weekend, so it was a relief to be able to start tucking into the last gels and glucose sweets. Murray swears by marzipan, although I prefer to leave it for Christmas.

The mist kindly descended for checkpoint 5 below Beinn nan Imirean (a mistless mountain marathon would surely be a travesty), and we were beginning to doubt our directional abilities so ran away from the requisite knoll to forage nearby. Luckily the leading elite team plunged rather loudly out of the gloom and we followed them back to the correct spot.

The rest, as they say, was gravy, except the final unpleasant sprint downhill to the finish, which we could very well have done without.

Thanks again for a memorable couple of days.
C Course Winners – John Earl and Jon Davies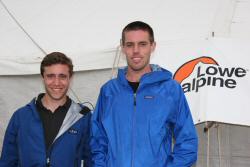 We set out at a fair pace from Bridge of Orchy on Saturday morning, and in our excitement tried to cut off the Northern corner of Beinn an Dothaidh after the first control, only to find our 100m ascent cut off by the crags, so had to descend back to the main trail of teams below. Our route was by and large the same as the pack, but we made up ground steadily on most teams until the third control. After more than two hours, John hadn't eaten anything and was visibly slowing; one Mars Bar later and we were back in business.

We made a small mistake in traversing the nose of Sròn a' Mhill Bhuidhe, as opposed to going over as suggested by Angela, although we didn't lose too much time compared to the other teams. John did a good job finding the fifth and sixth controls, and we descended steadily down to the mid-camp, somewhat surprised to find it nearly empty. Later, we discovered we were in second place, just over four minutes behind overnight leaders, Stephen Martin and Ed Jenner.

After an excellent night's sleep at our first Mountain Marathon mid-camp we found ourselves rather rapidly overtaken by C3, who had started just 10 seconds behind us (C2). We saw the C1 guys around the first control, but both C1 and C3 were moving faster than we were comfortable doing on the first ascent. The second control description confused us; looking for "East Knoll" we searched the eastern set of knolls, while C4, C5 and C6 caught us up and found it. John spotted this and as Jon ran to dib in, he came to a 4m wide bog. All the others had not been too deep, so to save running around it he jumped with both feet into the middle, shouting "I'm going in!" ... hilarity ensued as he went in up to his waist (luckily a grass tussock was available to aid him getting out)!

So we were sixth coming out of the second control and pushed on up the hill to get in front of the three teams that had just passed us. Very exciting racing! We managed to lead over the top of Stob an Fhir-Bhogha and get away first down the far side, opening up a bit of a gap, but the other teams closed it up again on the climb to the third control and the traverse around Creag Mhor was neck and neck.

We knew we had to make a break for it on the last significant climb to secure third place, so we opened up a little gap by running the last bit of the traverse and then pushed hard up the 150m to the col below Cam Chreag. It was sweet running over the top, trying not to look back and sprinting down to the next control! We first realised we might win when the photographer at the col below Ben Challum told us C1 and C3 in front had missed the fourth control. We were very lucky to find the fifth control quickly (so glad visibility was good) and the descent to the finish was a welcome relief. Jon was keen for a good time, but John was sensible and ensured that we didn't fall at the final hurdle.

We crossed the finish line and dibbed our tag into the reader to confirm us as the third team home but the first to cover every control. Thanks to Martin, Angela, Andy and the rest of the team for organising, planning and controlling such a superb event - we very much hope to be back next year. Finally, commiserations to the two teams that were faster than us but missed the elusive fourth control on day two.
D Course Winners – Diana De Bellaigue and Suzie Allison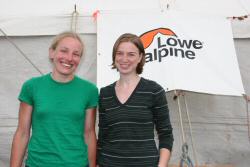 Firstly it was a really great weekend, beautiful location, loads of friendly people, good atmosphere and winning the D course really just topped it all off. We certainly didn't anticipate the result slogging up the first hill on day 1. Suzie stepped in right at the last minute when my partner dropped out, it was my first LAMM, we'd never run together before and she is in the middle of writing her thesis so was in theory 'unfit' (I'm a bit scared of fit Suzie now). Day 1 felt hard work in the heat (we saw a lizard proof that it really was hot), we went the wrong way, distracted by a nice view and some deer and were very pleased to come in 11th. Day 2 just worked really well thanks particularly to some spot on navigation from Suzie, we were still pretty surprised though when we found the D1 team looking for the second last control and realised that we might actually be first in. It was a fantastic feeling bombing down the last hill (and quite nice to beat the boys...)