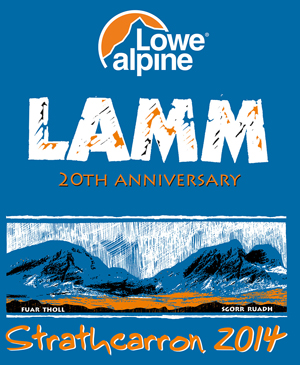 LAMM 2014 Tee Graphic
The LAMM has returned to its roots in 2014 and we have a fantastic event tee shirt for you. In the early LAMM years, Martin Bagness, a top Lakeland orienteer, used to draw a graphic of a scene from the LAMM area and this was printed onto a cotton tee shirt. This year we have asked Martin to help us again and he has sketched an iconic image from the area which is based on a photograph we found on the Internet by Steve Fallon, who won the score in 2011 and this year was 3rd on the Elite. We have a unisex and ladies cotton tee in Antique Sapphire with the LAMM logo on the sleeve. The unisex tee has the graphic on the front and the ladies has it on the back.
Available: Unisex - XL 46-48, Medium 38-40, Small 34-36. Ladies - Small 8/10
To place an order, please email martin@lamm.co.uk until Friday 19th December. Please list the items you require and provide a delivery address/phone number. I will confirm that they are available.
The price is £13 which includes post, packing & insurance. These tees will be despatched to arrive at UK addresses before Christmas.






LAMM 2012 Tee Graphic
Available: Unisex Black - Small 34-36
Available: Ladies Heather Purple - Medium 10/12