PHOTO STREAM | DAY 2 COURSES | RESULTS | OVERALL RESULTS | WINNERS REPORTS
Prizegiving, Fizz and Cake in the Sun!
This year's LAMM was held in magnificent scenery, and in the main the weather showed it off at its best. The rain and cloud did not come down until late afternoon on Day 1 and Day 2 was warm and sunny from the morning to the prize giving outside the marquee.
Being the 20th anniversary this was a bit special so everyone had a slice of the birthday cake and corks were popped as 24 bottles of sparkling wine. The success of the LAMM was toasted with 200 little cups of sparkling wine. Many photographs were taken of competitors and helpers who had been at the first LAMM. Event organiser Martin Stone gave heartfelt thanks to all who had been involved in LAMMs past and present.
It always seems to be sunny weather at the prize giving and this was no exception. Martin is always lucky. Within an hour and a half it was raining heavily.
Live Music On Friday Evening
An innovation this year was music in the marquee on Friday night. Sometime classical clarinettist Martin Stone signed up an excellent Glen Carron based rhythm and blues outfit called "Four in a Bar" - quite unseen and unheard. They played some great Sonny Boy Williamson and greatly helped the sale of Plockton Hitched beer (£1000 was raised for Arrochar MRT). Unfortunately David Johnstone, our Event Centre Manager, moved their stage to a spot adjacent to registration. He had forgotten that his wife was on the other side of the partition trying to sell Tshirts. Not only did this make it difficult for her to converse with customers but her preference is for quieter unamplified folk music. As a penance, David was sentenced to 4 hours on late night car parking duty!
Welcome Return
Serious injuries have been very few in the LAMM. The most serious by far was in 2010 at Loch Fyne. Martin Potter and Rob Latimer were nearing the end of their course on Day2 and fell down a rocky ghyll. Despite his injuries Rob managed to reach the finish and raise the alarm. The Arrochar Mountain Rescue immediately sprang into action and very soon they were both their way to hospital. Rob's stay was not so long but Martin's injuries were extensive and he had a stay of several weeks. The happy ending of this story is that both Martin and Rob have now made a great recovery after many months of treatment, convalescence and rehabilitation. Rob returned to compete with a different partner in the B Class in last year's LAMM. This year they renewed their old partnership and Martin even stepped to take part in the B Class and they had a great weekend.
Arrochar MRT To The Rescue
Here is an email just received from competitor Anne Plenderleith - "Could you pass on my thanks to Arrochar Mountain Rescue for their help on Sunday. Also to everyone who expressed their concern and offered to help, subsequently informing Mountain Rescue about me as I hobbled along the Ling path. It's good to know how kind LAMM competitors are. I have in fact broken my ankle, currently on crutches, non weightbearing..... Better luck next year." Her husband Louie dashed over at the end of the prizegiving to confirm that they were safely off the hill and to join the celebrations as a participant from 20 years ago.
Piper at the Gates of Dawn
This year's LAMM piper arrived in car with a German number plate and all the way from Jena. Chunky Liston's parents live just near the C/D/S start. Chunky played out the runners on Day 1 and turned up at the Coulin Midcamp at 5am for the traditional waking of the competitors. He writes some of his own material and plays gentler laments and lullabies and less of the more raucous rousing tunes we associate with the pipes like Scotland the Brave. These seemed particularly suited to the remote glen of the midway camp. Mind you, Chunky had to be brave wearing his kilt. You should have seen the dozens of midge bites on his legs. A few years ago, Chunky and our planner Angela won the 8 stage Trans Alpine Run. Throughout the weekend, Chunky showed his versatility by collecting LAMM controls.
Chunky's parents threw their house open to the LAMM and had a gaggle of helpers staying with them. Their hospitality was remarkable and so vital to the smooth running of the event. Many thanks.
Cobblers!
There seemed to be quite a few shoe failures this year. A steady trail of runners came to the tent at the overnight camp asking whether Compasspoint might helicopter in a pair of replacements. They had to make do the communal roll of duct tape and wandered off with bound feet. Martin and Debbie lent a couple of pairs of their running shoes to unfortunates whose shoes were disintegrating. Pleased to say that both pairs got round Day 2. The grateful recipient of Martin's said they were the most comfortable and at the same time the most dangerously slippy ones he had ever run in. They are now residing in a waste transfer station on Skye.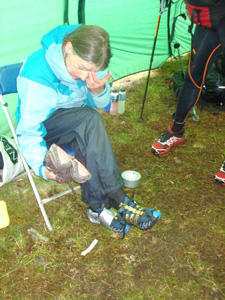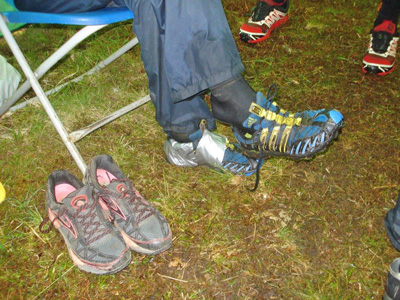 Mediterranean Mountain Marathoners
Regular LAMMers and former Carnethy members Ana and Ramon flew from Madrid in to compete in the D. From the other end of the Med were a mysterious team from Cyprus we have not yet been able to identify. The locals had them under surveillance because they were spotted playing golf at the local course and eating in the Waterside cafe.
Spontly and The Distractions of Competition
Jim Mann, the inventor of the Spontly system the LAMM is using that allows competitors to stream their photos taken during the event, won the Elite for the 3rd time with his partner Duncan Archer. Jim was concentrating so hard on the competition that he didn't mention Spontly once all weekend! Poor mobile coverage in the mountains and battery limitations in phones have made it quite a challenge for competitors to upload their photos.
More Swedish influence
A couple of Swedes were amongst the last to finish in Saturday night's rain. Changing out of his wet gear in the Finish tent he asked a girl in tent entrance to look away. He promptly whipped off his bottoms to reveal the entire Swedish crown jewels before pulling on dry replacements. I asked him why he was being so modest when in Sweden they have mixed showers at orienteering events. "Ah", he said, "That is in Sweden. Now we are in Britain". Very culturally aware, these Swedes.
There seemed to be quite a few Swedes competing this year. Perhaps this is not surprising. Gerry Charnley who organised the first mountain marathon in the UK was in 1967 stole the idea from Sweden. This first event was the Karrimor (now OMM). From the outset there were competitors from Scandinavia. Top orienteer Stig Berg he ran with British partners introducing them to the latest lightweight kit and high standards of navigation. This led to a rapid improvement in the standards of the home-grown competitors. In the early days of orienteering the event toilets were nowhere near the standard of the plastic cubicles provided by Heilan Loos at this year's event were of a very makeshift and crude variety. This resulted in one of Gerry's less successful Scandinavian imports. These were some portable toilets he had seen at an event over there. Basically they were plastic lined card boxes with an appropriate sized hole in the top. Now what might work in a dry sunlit Swedish was not the same in rain sodden Britain. When the cardboard thunder boxes became wet they lost all of their structural strength and the result is too sordid and squalid to mention to squeamish mountain marathoners who might be reading this.
Postscript
My only foray onto hills was on Monday to collect controls. In magnificent sunshine I had my lunch at the top of Fuar Tholl and enjoyed the magnificent scenery all around me. It was only then that I fully understood what the competitors had experienced and how lucky they were. I told the organiser, Martin Stone, that he should take a break from the stresses of organising and get back to where it all began for him – crossing big hills and setting Munros records. It has been a great 20th Anniversary LAMM, one of the best. See you all again next year and please tell all your friends that they missed a really good weekend. This year was just a dress rehearsal for our 21st Anniversary LAMM!
Brian Jackson