Sunday
Pleasure and pain in Glen Pean
Photo Gallery | Map and routes on Route Gadget
Day 2 Checkpoint Times | Winners Reports | Prize Giving Photos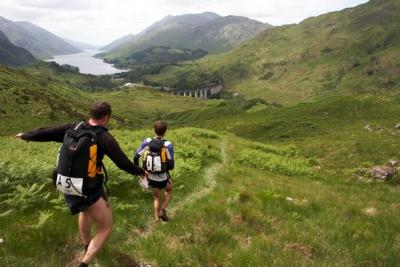 Day 2's chasing starts put pressure on the leading teams. Teams on courses A, B and C had to cross the River Pean and get over 400m of bog on the far side. In the rush, some people disappeared up to their waists in the quagmire and had to be pulled out by their team mates.
The morning dawned still, misty and damp – ideal conditions for the midges that were out in force. It's amazing what can be done through a midge net: take photographs, drink tea, play the bagpipes and mark up a map.
By the time the first teams reached the finish the old LAMM magic had done its trick and the sun had broken through. Exhausted runners basked in the sunshine as they wolfed down their hot lunch from Wilf's.
The day was a triumph for some teams, as they extended their leads. For others it was a disaster, as they blew it with navigational mistakes.
Tim Higginbottom and Chris Near richly deserved the LAMM trophy. Having started 20 minutes ahead of Alec Keith and Brendan Bolland in the chasing starts, they finished 44 minutes in front.
On the A course, Dan Duxbury and Matt Ready maintained their leading position. However, John Earl and Jon Davies mis-marked their map and failed to find their eighth control. They came in without punching it and were disqualified. Sam Grummit and Ian Scott, who had been fourth overnight moved up to win the B.
Course C overnight leaders made an "embarrassing" mistake out on the hill and dropped to 13th place. Winners were John Tansley and Trevor Wade, who rose from fourth overnight.
D overnight leaders, Ben Wallace and Paul Warnock stayed in front, extending their lead. First back on the Novice were Andrew Taylor and Jamie Aarons, who overtook David Bentley and John Ellaby.
Alistair Gibson, the estate manager for Glenfinnan Estate, presented the prizes. He had provided the event centre field and helped considerably with the pre-event organisation.
On the run in to the finish all the teams ran under the Glenfinnan Viaduct. Built in 1897, it was a pioneering structure – the first in the world made of mass poured concrete. Having completed a mountain marathon in some of the most gruelling terrain in Britain, everyone who took part must have gone home feeling that they too were pioneers.
Felicity Martin