C course takes its toll (Results)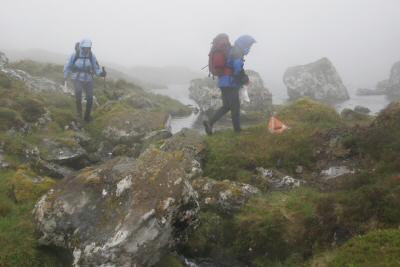 It was nearly 9pm before the 2006 LAMM finally finished and the last team – on the C course – wandered in over the line after 13:21:48 out on the hill. Added to their long first day, that meant their race time was over 24 hours. Of the many competitors who finished after the prize giving, the last half dozen were on the C course, which had proved particularly challenging with its steep gully climb and prolonged legs in mist on complex terrain.
The Elite course winners, Alec Keith and Kenny Riddle, only took about half that time to complete their two days. They actually only had the fifth fastest time on Day 2, but managed to hold off Paul Currant and Tim Lenton, although their 20 minute Day 1 lead was whittled down to 5 minutes. The fastest team on Day 2 were Jo Scott and Nigel Wright, who came in third overall. One mixed team, Jon and Elizabeth Batt finished the course, coming in 12 th with an overall time of 21:05:22.
On the A course Tom Horton and Matt Scriven were decisive winners, with by far the fastest times each day. Their overall time of 11:48:55 was nearly half an hour ahead of the second team. Richard Lawes and Roger Knox just secured second place with a fiercely contested race to the line, crossing it a mere eight seconds ahead of Alex Pilkington and Jon Muffin, who had closed the gap during Day 2.
Charles Sproson and Lawrence Friell ended Day 1 a comfortable half hour ahead on the B course in 11:21:10. Although only tenth fastest on Day 2, they still maintained a lead of ten minutes from second placed Tony Heron and Andrew Edwards when they crossed the finish line. Hans and Frederick Hedin came in third another five minutes behind.
The winning time on the C course of 10:53:22 was deceiving. Martin Skinner and Andy Creber were 35 minutes ahead of the next team, Stephen and Tim Martin, with John Wootton and Mike Bullard coming in third fifteen minutes later. All but the top six teams were over the 12-hour mark and many of them took longer on Day 2 than Day 1, although the course was 2km shorter.
There were an incredible 24 teams disqualified for miss-punching on the C course, a reflection perhaps of the fact that one lochan in the mist looks much like another. In the driving rain on their bit of the hills, many on the C course must have not bothered to check the control code.
The D course was won in a significantly shorter time – 8:26:05 – by Ben and Tom Rowley. They started Day 2 in second place, two minutes behind Richard Wilkes and Tom Hemington who they overhauled by one minute after another hard fought contest. Emma Holgate and Mark Scales were third in 8:45:34.
The 'biggest' win was on the Novice course, where Stewart Pedler and Tim Preston finished over an hour ahead of second placed Kevin Gay and Stevyn Walder, in 11:33:21. At the end of Day 1 they were eight minutes in the lead, but had extended this considerably on Day 2. Third place went to Ross Lewis and Joe Byrne in 12:38:12, the only other Novice team who took less that 13 hours.
Despite the long Day 2, and coming in dripping wet and footsore from the sharp rocky ground, most teams said they had really enjoyed the event. It had proved a true test of their mettle – not just demanding top-notch navigational skills but trying their courage and perseverance. It reflects very favourably on the standard of LAMM competitor that so many completed the courses successfully and came in with a smile on their faces.
The thing you can be sure of next year though – Martin Stone, who along with other key marshals and members of Arrochar Alps mountain rescue team missed dinner, will be setting a closure time for the courses.
Felicity Martin