Saturday - Clag, crags and caves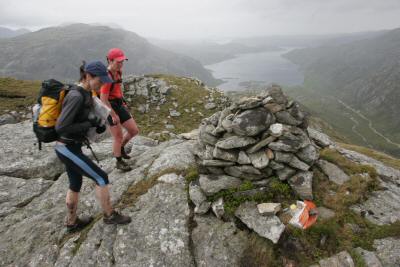 As anticipated, Day 1 of LAMM 2006 presented big navigational challenges as the high, rocky hills were covered in thick, low cloud with rain and drizzle. Competitors had to avoid sheer cliffs while descending some very steep ground. Some control sites were in tricky locations and one – the first on the C course – was in the 'bone caves' of Inchnadamph.
Alec Keith and Kenny Riddle had a scorching run to come in at the head of the Elite field. Their time of 6:03:31 was 20 minutes ahead of the next team, Paul Currant and Tim Lenton. Jo Scott and Nigel Wright are another 13 minutes behind in third place. The female team, Heather Dawe and Heather Jackson are in 12 th place, with the mixed team Jon and Elizabeth Batt one place behind them.
Tom Horton and Matt Scriven are ahead on the A course at mid camp, their Day 1 time was 6:15:24. Overnight B leaders are Charles Sproson and Lawrence Friell, who were out 5:57:38 on the hill. Martin Skinner and Andy Creber are leading on the C course, having taken 5:21:44. D course leaders are Richard Wilkes and Tom Hemington, who took 4:28:12. Novice team Stewart Pedler and Tim Preston got round in 5:56:39, putting them in first place overnight.
The morning started at 5.15am, when Niall Watson roused the campsite in the traditional manner, by marching around playing the bagpipes. By 6am Wilf's was doing a roaring breakfast trade and the loo queue was 20 yards long (there was the quick option of the slit trenches, but they had few customers in the steady rain).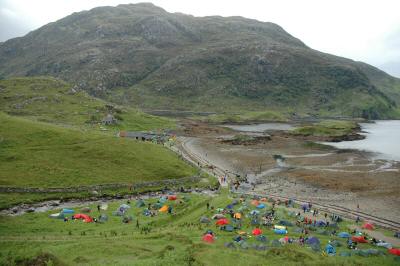 Few were surprised to be loaded on to buses when they walked down to the road as instructed. However, many were pleasantly surprised by the shortness of the journey, compared to some previous LAMMs. The Elite, A and B teams started from close to the road, 8km south of the event centre. The C course start was just 4km south, by a fish farm, while the D and Novice were bussed north to Kylestrome.

I am now reporting from mid camp, which is at Glencoul bothy, on the shore of Loch Glencoul, a sea loch. The D and Novice arrived here by making a loop to the north, around Loch Glendhu. The other teams all crossed higher mountains to the south. The highest point on the C course was the shoulder of Conival. It is an outlier of Ben More Assynt, a massive mountain encountered on the B, A and Elite.

The C and B courses visited the Stack of Glencoul, before descending to the mid camp. This pointed summit is a magnificent viewpoint, looking down on the mid camp and out to islands in the open sea. It was a lottery as to how much teams saw from the cairn checkpoint, but there was a brief burst of sunshine in the middle of the day and the cloud did gradually lift during the afternoon.

Many teams were surprised just how rocky the mountains proved to be and more than one set of fell shoes succumbed to the punishment. The wet limestone slabs underfoot were as slippery as bars of soap. Some cuts, knocks and bruises were reported at the finish, including one runner with his blood-covered head wrapped in a bandage. However, he was still smiling, as are most other competitors, now they've had some hot food and drink.

Felicity Martin