A Close Encounter with High Tide at the Midcamp - Fran & Dave Kenden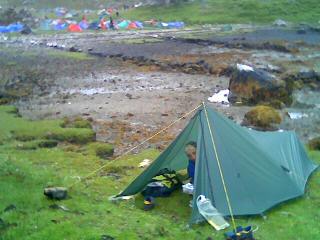 Having reached the midway camp (Dave was chuffed at guessing it might be at this location & looked up the tide times!), we took your advice and were inventive in finding a flat, isolated and springy pitch – definitely a "Des-Res" on the nearby islet, ideal, albeit cut off from the mainland for an hour or so either side of high tide.
Prior planning and we knew that HT was 12.00 midnight. Just before retiring for the night, took the precaution of making emergency evacuation plans. We believed it would only mean unhooking the inner of the trusty old Saunders Jetpacker tent, pulling our legs up towards our chest for half an hour or so, to save our feet getting wet during the highest tide.
First inkling that things weren't going quite to plan was when I woke and mentioned I could smell the sea. Blissfully unaware of our situation I turned over to find I had a cold knee…. Putting my hand down towards my knee I felt a kind of floating, glugging, lapping sensation……. On with the torch, as the tide was already at our knees and rising fast!
Emergency evacuation plans were quickly put into action and the inner unhooked, we shuffled up to higher ground and into the bivi bag for a couple of hours. We watched as the whole of the footprint of the tent became submerged – save a small corner of the porch - until the tide subsided and we were able to reinstate the inner, and back to bed for a few hours kip!
Some points to reflect on:
Neap tides can still be quite high
Our theory that sea campion never grows on ground where it regularly floods, is incorrect
Tide tables are GMT, not BST
And on a more fortunate note:
The groundsheets in ancient Jetpackers are remarkably waterproof!