Fat Lads go LAMMing 2
Article in George Fisher's Magazine – "Update Summer 2006"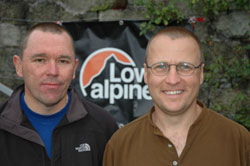 Remember last year when 2 chubby lads finished 5 th in C category on the Lowe Alpine Mountain Marathon? Well, here we go again! Simon Noble and I work at George Fisher in Keswick. We have been in training to tackle this year's event however as we did well last year we thought that we would have a go at category B…what's the difference compared to C? An extra 6 or 7 kilometres and about 700m more climbing – it's like doing an extra ascent of Blencathra after a long day out!
You will recall that the Lowe Alpine Mountain Marathon (LAMM) is a 2-day challenge held annually in the Scottish Highlands; on Saturday morning we will be given a map and set of grid references that need to be visited in order through that day. Sunday is the same – the checkpoints set will eventually return us to our starting point. Oh yes…just to make things a little more challenging we must carry food, water, tent, sleeping bags, stove and camping equipment because on the Saturday night we'll be camping somewhere miles away from the Event Centre! In B class we would expect to cover 52km and ascend/descend about 3000m over the 2 days.
As I write this on the Wednesday before the LAMM we still have no idea where we are going – the location of the event centre is only released at midday tomorrow, the day before we travel; there are some tantalising clues on the LAMM website (www.lamm.co.uk), " Location is 4¾ hours drive north of Glasgow/Edinburgh, 1¾ hours drive from Inverness!", " Mountains of over 3000ft; high, open moorland; deep and steep glens; lots of crags and, once away from the event centre, it feels (and is) very remote with the only access being a few stalkers paths" and "On the map are some amazing and fairly well known natural features to watch for (some courses have been planned to give the best opportunities to see these, so if you're not out to win keep your eyes open) and, depending on the weather, the views are spectacular"…so where is it? Sutherland, Torridon, Applecross?
*********************************
It's Thursday, it's 12.30pm…. it's ASSYNT!! We're going to Sutherland; the event centre is at Inchnadamph, a hamlet 22 miles north of Ullapool! So Friday morning sees a car full of eager competitors driving 7 hours north. Simon and I journeyed with Lisa Bergerud, one of my colleagues in our Buying Team, and her husband Martin – they have entered category A!
As we drive up the weather deteriorates, by the time we cross the Moray Firth it is lashing down, with the windscreen wipers on full you can feel a distinct lack of enthusiasm for what's to come! Saturday morning dawns (very early when the LAMM bag piper wakes us up at 5am!) reasonably bright, not too cool with a bit of drizzle…actually these are ideal conditions; we won't over heat and the lower cloud levels will bring navigational skills to the fore.
The 4 of us from Keswick are in the front seats of the first coach as we are bussed 6km south to the start. After mutual wishes of good luck we collect our list of controls and we're off! As it's raining we nip into a lean-to shed behind the start to mark up our maps – 8 checkpoints before we finish the day.
Our first leg is a rising traverse of 3km, climbing 300m in the process – this steady-away start gives us the opportunity to look at our maps and assess the challenges ahead. It's obvious from first glance that the key section of the day will be between checkpoints 1 and 2; they are about 9km apart and Ben More Assynt, the local Munro – height 998m, lies between them. Shall we go up-and-over or round? Up-and-over is more direct but the weather has worsened and the thought of cold, wet and wind for the next couple of hours doesn't appeal…so it's round, isn't it? On closer inspection "round" means cutting out one climb but we'll still have to go over the shoulder of Ben More. I'm just resigning myself to this when Simon pipes up, "I've got it! Look at this!"
Rather than go anywhere near Ben More Simon is pointing at a stalkers path that runs another 3 km to the east of the more obvious routes…it's a very long way round but the going looks straight forward. Yes, we'll go for it! 3 hours later we arrive at checkpoint 2 to meet a team who've come over the top…"What was it like up there?"…"F****** awful!!" – it looks like we made the right choice!
The rest of the day unfolds without too many upsets! We agree quickly on route choices and find all the checkpoints as we planned. The clouds rise as the afternoon goes on and the views become spectacular. To the east peak hags and tussocky grass undulate away towards the distant Loch Shin whilst to the west the Ben More Assynt massif appear from the brightening cloud cover. We ended day 1 with a run down to the last checkpoint, finishing after 8hours 18minutes and gratefully collapsing into our tent which we pitched right on the shore of Loch Glencoul. After food, drink and rest we were able to swap stories of the day with other competitors (like how Lisa sprained her ankle at their first control of the day!) and take in the stunning view across the loch towards Quinag…simply fantastic!
Day 2 begins the same way as day 1 with bagpipes at 5pm! Almost before we've got time to think we're standing on the beach ready to start. 7 checkpoints today will take us back to Inchnadamph. After the initial climb up to Beinn Leoid the day becomes a bit of a blur… we keep moving, checkpoints keep coming, eventually (after a couple more climbs) we're heading for home! A rattling 4km run down another stalkers tracks brings us back to the event centre; we finish in 6hr 11min for the day, 14hr 29min in total and 47 th out of the 90 teams that started the B class, Lisa and Martin finish 39 th out of 61 teams in A having spent 16hrs 34mins on their feet over the weekend…we're all satisfied with a challenge completed and start talking about how we'll approach it next year…are we mad?!
My enduring memories will not be of the hard climbs, peat hags and struggles we endured but of herds of deer, hundreds of frogs and spectacularly beautiful scenery we encountered over the 2 days– in particular the isolated position of the mid-way camp and the incredible views it offered…it was a privilege to be there! All competitors owe a great debt of thanks to Martin Stone (the event organiser) and his team for delivering us to such a wonderful situation and making the LAMM run, as usual, like clockwork!
For more information on the Lowe Alpine Mountain Marathon then visit www.lamm.co.uk - have a look and be inspired!
Andy Airey - 23rd June 06