Saturday - Leaders Comments
Once they had showered, eaten, had their massages and put on some clean clothes (only kidding!) we asked the leading teams to write a few words about their day.
The Elite course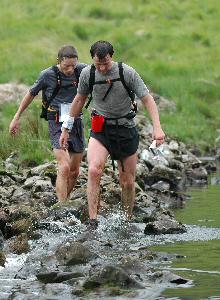 We were glad to catch the last ferry (only just!), and it was fun getting off at Craignure with 400 others to the amazement of the locals. There was no room on the train, which was a shame, but walking was quicker.
Midges galore, and our short sleep was brought to an abrupt end by the piper far too early. We had no expectations of the weekend as we still felt tired from our BG run a few weeks ago. By chance we started 5 minutes after Ifor and John, which was good as were able to keep an eye on them though out the day, and which made the long muddy track more fun. Steve started feeling really tired after Moy Castle but luckily could follow Ifor through the difficult navigation section while he recovered. The long climb up the gully was hard work with Ifor and John getting away. We were really surprised to see them as we descended to the last control and they were climbing back up hill to the previous one. We had taken a better route and ended up with a 13 minute lead
We were really happy to have kept going at a decent speed all day and to be leading. It was a tough day with rough ground and hard navigation. The campsite was grassy and flat and with a wind blowing to keep the midges away. We are looking forward to tomorrow and hopefully some good views.
Steve and Morgan
The A course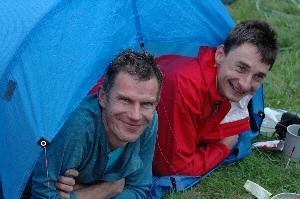 The omens were not good this morning when we arrived at the ferry terminal at 7.10 am for the 7.30 ferry. "We haven't got the ferry tickets," said Steve " do you think they will let us on without them?" – "No" was my reply, a little terse. Panic then set in, we had to go back to the car, drive to the car park – our first navigational challenge of the day and then get back to the ferry, having reparked the car in between! The lady at the car park tried to explain that we were too late to get the ferry – we grabbed the ferry tickets from her and screeched out of the car park, the race was on!
Anyway, needless to say we did indeed manage to get the ferry, with five minutes to spare in fact! The adrenalin had been pumping and useful team bonding had taken place.
We started a little before 10am, and soon got into the swing of things, sharing the navigation at first. We seemed to be making good choices and were quite pleased with the way things were going. Between controls 1 and 4 there was a lot of flat fast running. This did not suit me at all, I was hoping for a gentle stroll in the hills not a break neck 10-mile road race! Steve was well in front of me and was absolutely flying. By control 4, Moy Castle, I was a physical wreck, Steve was still jogging merrily ahead, apparently effortlessly, I cursed his fitness and tried to put a spell on him to slow him down a bit, to no avail. I slowed down and was certain teams would catch us and pass us, but apparently not. After an hour or so of eating, drinking and gentle walking, I began to recover; things were looking up – slightly!
I was not concentrating much on the navigation by now as I was trying to focus on more basic things like breathing, remaining on two feet and keeping the onset of cramp at bay. Steve however was doing a sterling job and we barely put a foot wrong, he even carried a bit more of my kit, I'll buy him a pint when we get home.
We carried on through controls 9, 10 and 11 at a respectable, if not overly impressive pace and all of a sudden we could see the camp site! Home sweet home, how I was looking forward to the luxury of washing myself down in that cold stream and lying in our 850 gram tent while Steve waited on me with a cuppa soup starter, pasta main and instant custard and apricot desert – makes it all worthwhile!
On the positive side, we are in first position (at the moment) and I haven't really trained for a couple of years, perhaps I can afford to reduce my training still further?
Geoff Pettengell & Steve Watts
The B course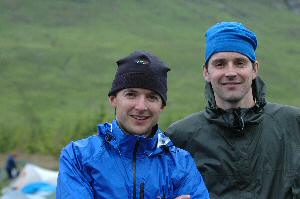 Thrilled by getting out to the Island of Mull, we expected spectacular nature, and it was, but covered in mist.
Immediately shocked when plotting the course on the map by difficult route choices, especially between 1 st and 2 nd control. Changed our mind and made the left route choice which we think was fairly good.
Kept a steady and good pace over the first half of the course. Second half was slower revealing that our training could have been better, though, no mistakes in the navigation which was cruicial today. Took it very careful up in the mist and really focusing on the navigation. Tired legs in the end but after a good dinner and an extra bowl of porridge we are ready for tomorrow and looking forward to it.
Peo and Joakim
The C course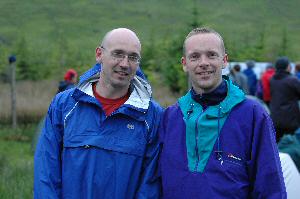 Can't really believe that after 10 years of trying we are leading our class overnight! After a somewhat relaxed pre-start morning tea and a bus ride we set off into the mist, and onto a course that really played to our strengths: bad visibility, some fast track running, technical navigation and short, sharp climbs. A slight navigational mishap at check point 4 cost us a few minutes but focussed our navigation skills. Catching up our friends, also from Loughborough (who are now in second place!), for the second half of the course provided some interesting head to head racing, encouraging each other to go faster across the ankle-breaking tussocks in to the finish.

The challenge now is to stay in front tomorrow…

Toby & Phil

The D course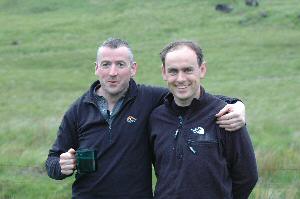 We arrived in Oban at 9pm yesterday to find out that the event was on the Island of Mull, after a frantic search we secured some accommodation and aimed to get the 7.30 ferry.
We were one of the last competitors to start in the light drizzle, our first route was straight forward along paths for 3-4km, controls 2&3 followed with no major navigation problems. Leading up to Control 4 we took the right side of the gully and had to swap over to the left side maybe losing 4-5 mins approx. When over the ridge the mist was coming down quickly. Next two controls were very slow due to lack of visibility but with some close (short range) navigation we luckily found it. Then heading downhill to 7&8 we were along major streams and roadways. Going to number 9 Derek suffered severe cramp but with some gentle persuasion we reached the re-entrant very slowly. Having to walk the next 2-3 km we took the most direct route possible and navigated to the large stream easily. The last control and finish were again a slog as conditions underfoot were quite wet and rough from the earlier competitors.
Tomorrow we are looking forward to another good day on this excellent and challenging terrain.
Tom Conlon and Derek Conerney.