Friday Night Preview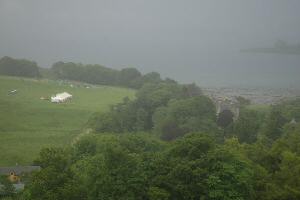 Like Brigadoon emerging out of the mists, the LAMM 2005 tented village is appearing on a large field, slightly to the north of the fabulous Torosay Castle and gardens on the Isle of Mull. As always the exact location of the event has been a closely guarded secret right until the last minute, with the 1,200+ competitors only finding out today just where they were headed.
Until today they had only been drip-fed information about the event, starting with the news that it would be further south than last year's event, which they were told in January when entries opened. A bit later it was revealed that the destination was around 2 and a half hours drive from Glasgow and yesterday they were told to head to Oban. Only at 12:30 today when the event car park at Oban opened did they find out they would be taking a ferry from Oban to make the 45 minute crossing to Mull.
Even that wasn't the last of the surprises. When the competitors landed at Craignure they were given tickets for a narrow-gauge train to take them the last mile to Torosay.
As usual the LAMM is a Martin Stone production and he has been working with his team for over 8 months to create the event that carries the strapline "the connoisseur's mountain marathon" This year the planner is Andy Creber, planner for last autumn's KIMM and the controllers are Angela and Janice Mudge. He has also been working very closely with Chris James, the Laird of Torosay who has also been extremely helpful, to the extent of giving over part of his own office to the admin team (and journalists!).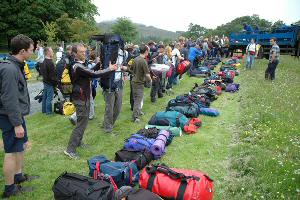 One advantage (or disadvantage, depending how you look at it) is that the competitors still don't have their event maps, which means they should get a good night's sleep without having to think about routes until the morning – they will only get their maps on the start line, and even then they have to mark up their controls in race time. On the other hand the competitors are told roughly the distances and altitude gains they can expect on their respective courses. To put things in perspective the Elite teams can expect to cover about 39 km with 2,100 m of climb on day one compared to the Novice teams who will do about 14.7 km with 660 m of climbing. Courses A, B, C and D cover the range in between.

Talking to Andy Creber about the courses he said that the one common element in all of them would be tussocks. Although there will be some superb running, particularly at altitude, all of the courses had to descend at times into tussocky areas where the going would be slow. He also said that all the courses would include small pockets of terrain with lots of features that would fool runners who fall into the trap of just blasting without staying in contact with the map, when they suddenly find themselves looking for a checkpoint among a group of similar features. The elite teams will also be able to experience some significant scree runs, but just where precisely is still top secret.

Overall the LAMM has seen an unprecedented rise in numbers this year and in fact the logistics have been beefed up to allow more that the proposed maximum of 500 teams to enter. Although the elite field is still relatively small (just 20 of the 650 teams), Martin Stone is quick to point out that it is still a very high quality field with quite a number of previous LAMM and KIMM winners and many regular top finishers. He is also very pleased that this category includes 3 mixed teams (John Laughlin and Nicola MacLeod, Jane and Lewis Grundy and Amanda Calvert and Craig Harwood) along with one all female team (Heather Dawe and Helen Jackson). Of the all male teams it is hard to pick a likely winner though Jim Davies and Andrew Schofield and Morgan Donelly and Steve Birkenshaw must be in the frame. Ifor Powell is also known as a good navigator and good over rough ground and his partner John Hunt was a winner in the last KIMM so they are also ones to watch.