Saturday Evening
Saturday Results | Overnight Leaders Reports | Saturday Photo Gallery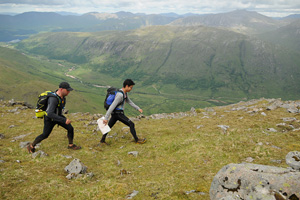 Out in the mountains
After a beautiful day out on the hills, with just enough cloud to cast some dramatic shadows over the hills, and with such a slight amount of rain in parts that it was almost as if someone had turned a hose to its mist setting and wafted it around a bit to cool everyone down, the competitors really couldn't have hoped for more. But even better than sun and cooling mist, a gentle breeze started to blow at around 5 p.m. that is just sufficient to keep the midges at bay, so here at Glenkinglass Lodge there is a very sociable atmosphere with competitors sitting and chatting in the evening sunshine.
Two competitors who would have had good reason to remember this as a special day whatever the weather are Niall Megaw and Lisa Butler who were competing on the D course, because somewhere out on the course Niall popped the question and Lisa said yes. Congratulations to you both (and by the way this is a world exclusive – it's not even on facebook yet – we were only told by Niall's brother, who handed a piece of paper to a marshal and asked her to pass it to me – so anyway, you did want the world to know didn't you?)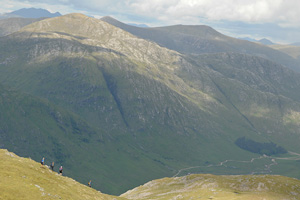 High
Might I also suggest that the LAMM would be the perfect honeymoon destination if you are short of ideas. That is a serious suggestion by the way as two of our Spanish competitors are doing just that – Anna Perez and Ramon Garcia, who we wrote about a little bit last year love the LAMM so much that they are here on honeymoon after getting married yesterday in Spain and flying to Scotland in the afternoon – maybe as a way of avoiding adding too much stress to the marriage at such an early stage, they are both competing on different courses with other partners.
Continuing with news of mixed pairs, we had thought that a mixed team might be leading the A class at the overnight, and there is… but not the one we thought it would be! Andy Fallas and Helen Bonsor, who are the current club captains of the mighty Carnethy Hill Running Club are currently leading the A class from Andrew Llewellyn and Sarah O'Neil with a 15 minute lead which means that the top two places in the A class are currently held by mixed teams (incidentally there are 94 mixed teams and 50 female teams amongst the 464 teams that started this year).
Jon Brooke