Saturday
High hills under a sweltering sun
Photo Gallery | Map and routes on Route Gadget | Overnight Competitor Reports
Day 1 Results | Day 1 Checkpoint Times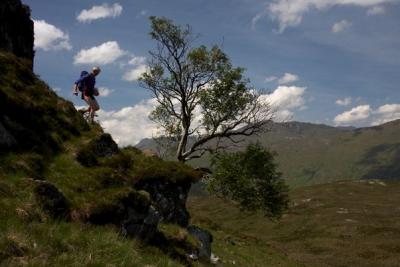 Never in the history of the LAMM have competitors been dispersed so widely through the hills. Today teams headed northwards, from the A830 Fort William to Mallaig road, across a front 18 miles wide.
The Elite and A teams caught a train on the West Highland line to Lochailort, 10 miles west of the event centre. The B course started almost as far west, while the C course start was a short way up glen above Glenfinnan. The D and Novice teams were bussed 8 miles east, to a picnic site by Fassfern woods.
All were heading to a midcamp at Strathan, at the west end of Loch Arkaig – a 14km walk from Glenfinnan if the shortest route is taken through the valleys. Of course, competitors didn't have it so easy, with the Elite teams completing a staggering 37km and 2380m of climb, and even the Novices tackling 16.5km.and 910m of climb.
At Strathan, the event midcamp is being kindly hosted by Edward and Sue Hinks, who have a microlight airstrip outside their isolated cottage. This is proving an ideal, if somewhat long and thin, campsite with lovely short grass.
Edward said, "I don't think there have been as many people in the glen since 1745. This was the Jacobite heartland where the clans gathered to support Bonnie Prince Charlie, who was waiting at Glenfinnan. There might be some spirits around tonight…"
A fair number of teams are still out now – at 9pm – so let's hope they get in before dark. However, some teams cracked round in splendid times.
Tim Higginbottom and Chris Near are leading the Elite course after Day 1, with a time of 7:21:27. Alec Keith and Brendan Bolland are 20 minutes behind, and Mark Hartell and Martin Beale in third place with a time of 8:17:54.
Dan Duxbury & Matt Ready were first in on the A course, in 6:31:00. On the B, John Earl & Jon Davies are in the lead, with 5:57;51. Course C leaders are Susan Howarth and Michael Gradwell, with 5:35:57. On the shorter courses, Ben Wallace and Paul Warnock are in front with 5:11:55. Novice course leaders are David Bentley and John Ellaby with 5:06:27.
As I write this, Arrochar Alps Mountain Rescue team, who always support the LAMM, have been out searching for a competitor reported with an injured back. They borrowed a boat from a house further down Loch Arkaig to get them most directly to the area, said to be between the C course third and fourth controls. Update – the casualty has been found as is being taken out to hospital to be checked over.
Felicity Martin