LAMM 2003 - DAY 2
Courses | Photos | Summary Results | Splits Results
20:00: Results, photos and report available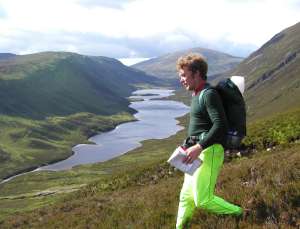 Day 2 saw some tough competition among teams to conclude another challenging and satisfying LAMM. This year all teams involved in the chasing start were issued with race numbers, so that rival teams could see whether they were catching up the field. The leading A team wore A1, the second placed A2 and so on for all the classes.
The chasing starts ran from 7am to 8am, but were not followed by the normal mass start. Instead the remaining teams were allowed to punch start at any time of their choosing between 8.05am and 8.30am. However, those who had been particularly slow on Day 1 were allowed to start from 7am onwards, so that the rest of the field would catch them up and propel them towards the finish.
An incredible effort from Elite runners Ifor Powell and John Hunt, who finished Day 1 in third place, enabled them to overhaul the two teams ahead of them and claim first place. Second were Mark Hartell and Mark Seddon and third Simon Bourne (who cut up his feet and was barely walking after the finish) and Tim Lenton. The Elite team of Morgan Donnelly and Steve Birkenshaw, who failed to make mid camp yesterday, retired and returned to the Spittal of Glenshee as Morgan was feeling below par.
On the D course two teams who appeared in yesterday's photo gallery finished in the places. The youngsters Iain Donnan and Scott Fraser lost their lead to Tom Mitchell and Mark Kendall and finished in second place. Saskia Hart and Anna Harris (who enjoyed a good feed last night!) were the first ladies.
As the midcamp in Glen Tilt was 16km as the crow flies from the event centre at the Spittal of Glenshee, Day 2 was inevitably going to be testing. When the prize giving was held at 2.15pm (in time for teams to get away on the coach to Glasgow airport) no Novice teams had yet finished.
"It's the toughest Day 2, I've ever done," B course runner Rob Barker said.
"And the longest," his partner David Fussell added.
At 3.30pm some teams who should have been on the Glasgow coach were still in the Event Centre field - and the coach was heading down the road. In inimitable style, organiser Martin Stone arranged for the police to put a road block at Blairgowrie to stop the coach, while he went chasing off after it with some surprised, but relieved passengers.
10:50 Chasing start photos now posted and day 2 course available