LAMM 2003 - DAY 1
Courses | Photos | Summary Results | Splits Results
Update: 21:30 - More pictures and results now available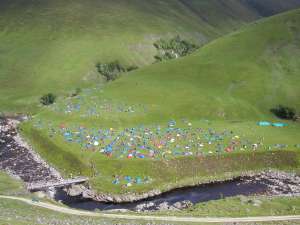 At 7.30pm all but 19 of the 462 teams that started this morning have successfully finished. So far there has been no sign of one of the favourite Elite teams - Morgan Donnelly and Steve Birkenshaw. After the first day's racing Mark Hartell and Mark Seddon are leading the Elite class, followed by Simon Bourne and Tim Lenton (7mins 14 seconds behind). Next are Ifor Powell and John Hunt, a further 1 min 11 seconds behind.
At one time it looked as if the Elite and A teams might not reach the start at the Glenshee ski centre. A competitor arriving from Braemar reported a broken down bus between the Cairnwell and the Spittal of Glenshee. Fortunately organiser Martin Stone found a coach driver at a local hotel who had an hour to spare before his day's journey. Martin managed to persuade him to take 36 grateful competitors to the start point.
Feedback from teams about the day's courses has been very positive. In bright sunshine the views were superb and the going much easier underfoot than in last year's monsoon. A lot of wild life has also been reported - everything from red deer to lizards, and hares to golden plover.
All the courses from the B, C, D and Novice start went over the 1051m Munro Glas Tulaichean, before weaving a way over and through the remote hills between Glenshee and Blair Atholl. The Elite and A competitors crossed their path on their way to some gruelling legs over the massif of Beinn a' Ghlo.
Notable runs included that by the 17-year-olds Iain Donnan and Scott Fraser on the D course. The two hill runners were encouraged to try their first mountain marathon by controller Angela Mudge, who lent them much of their kit - including shoes! They did her proud, finishing the D course 25 minutes ahead of the nearest team.
Other first timers were Saskia Hart and Anna Harris who are in their final year at Edinburgh University. Saskia is taking time out from revision - she has her last finals exam on Monday! Anna is fund raising to go to Malawi in July to build a school. Any sponsors?
N.B. The helicopter keys haven't been found yet.

09:45 - Photos from the Elite and A Course start now available. Day 1 courses for all classes now online. Adrian Moir arrived in his helicopter last night at 19:00 and within the hour had mislaid his keys. Does anyone know if National Breakdown can trailer a helicopter back to Cardiff for him?